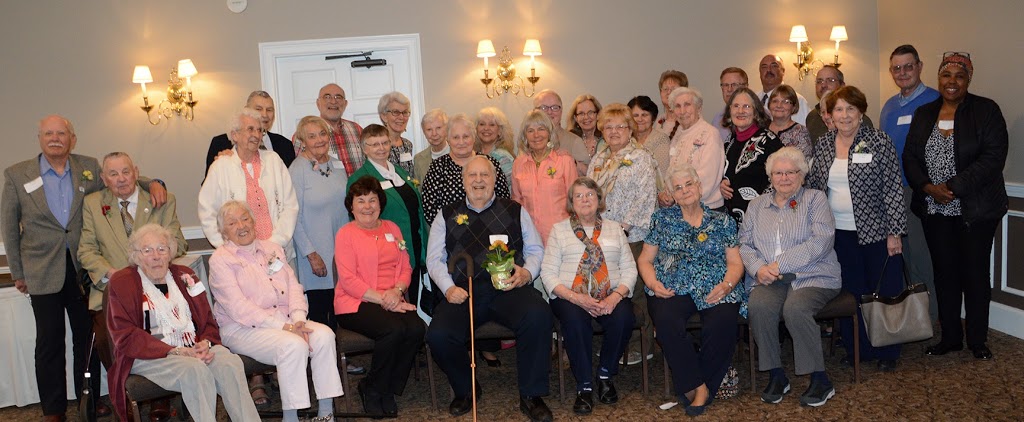 Memorial Hospital recognized its volunteers at its annual Awards Luncheon on May 3. Courtesy Photo
NORTH CONWAY, NH –   Memorial Hospital honored its volunteers on Wed. May 3, 2017, at its annual Volunteer Awards Luncheon at the White Mountain Hotel in North Conway, NH.  Over 46 volunteers received recognition for over 8,500 hours of service in 2016, and a Volunteer of the Year was selected.
The awards were presented by Memorial Hospital Board of Trustee Members Michelle O'Donnell and Tino Fernandes; and Memorial Hospital President & CEO Scott McKinnon.
"We are so grateful to our volunteers for their commitment not only to Memorial but also to their community. Their dedication and support touches patients and staff in virtually every department at the hospital, from the Emergency Department to Oncology to Primary Care. We're happy to recognize all of them at this annual event. It's impressive to see the hundreds and thousands of hours they have donated in the pursuit of quality healthcare for our community," stated McKinnon.
2016 Volunteer Hours Awards – Memorial Hospital Volunteers were awarded Hour Service Pins for the 2016 calendar year.  The total hours of service given to the hospital by the volunteers in 2016 was just over 8500.
100 Hours:  Dawna Houk, Maryann DeGregorio, Lauren Feltz, Jack Rowe, Judith Tilli.
200 Hours: Patty Allen, Ken Williams, Barbara Butler, Donna Cormier, Jane DiGregorio, Rita Harding, Juan Munoz, Ann Marie Murphy
300 Hours: Nancy Brothers, Ed Lawton, Arden Schoen
400 Hours: Curtis Hayes, Patricia Mason
500 Hours: Peter Thomas
600 Hours: Dody Coman
700 Hours: Marjorie Furlong
900 Hours: Judy Botsford
1000 Hours: Kim Henry, Richard Van Dyne
1100 Hours: Joanne Brooks, Shirley Van Dyne
1300 Hours: Merle Weber
1400 Hours: Jeannie Poliquin
1600 Hours: Robert Terravecchia
1700 Hour: Beverly Taylor
1800 Hours: Maryann Hartigan, Geraldine Terravecchia
1900 Hours: Ed Westervelt
2000 Hours: Ann Wilcox
2100 Hours: Mary Thomas
2600 Hours: Susan Proctor
3000 Hours: Doree Vissman
3100 Hours: Carol Westervelt
3300 Hours: Jim Tobin
3400 Hours: Judy Chesley
3500 Hours: Fay McLeod
3800 Hours: Curtis Tinker
4000 Hours: Virginia Tinker
4200 Hours: Janet Anthony, Nancy Ganley
4400 Hours: Clara Broglio
Volunteer of the Year Award – A "Shining Star" Volunteer of the Year award was also presented to Beverly Taylor at the event.  Taylor volunteers at the hospital's Suncatcher Gift Shop. Volunteer Coordinator Peter Waugh shared, "The Shining Star Award recognizes a volunteer who has gone above and beyond to serve our patients, families, and the hospital staff.  Beverly provides the opportunity for all of us to: spread a word of cheer, offer a condolence at the loss of a loved one, celebrate a new baby, offer words of encouragement to those who need it, celebrate a holiday – birthday – retirement or a wedding, or to simply say thank you."
Those wishing to learn more about volunteering at Memorial are encouraged to contact Peter Waugh at 603-356-5461 or [email protected]. Volunteer opportunities are available for all regardless of areas of interest or experience, for any amount of time available great or small.
Story Courtesy of Kathy Bennett,
Vice President – Community Relations & Development
603-356-5461 ext. 2198
[email protected]