Memorial Day Parades and Observances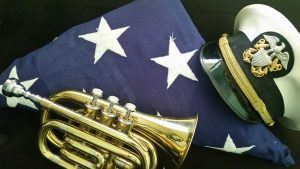 MONDAY, MAY 29
• A small parade will be take place in Jackson Village with a gathering of participants at 9 a.m. at J-Town Deli. It will proceed at 9:30 a.m. to the Jackson Village Cemetery, with participation from the Jackson Grammar School Band, Bartlett VFW and American Legion Post 95.
The VFW and Post 95 will next head to the Intervale cemetery on Route 16-A, then travel back to Glen, with a short procession to the cemetery, followed by a trip to Bartlett Village, with a procession at 11:30 a.m. from near the ballfield to Fred Hodgkins Veterans Park at the Josiah Bartlett Elementary School. Finally, they will travel south to the North Conway cemetery for observances at 1:30 p.m.
•  A brief observance will be held at noon at the Tamworth Veterans' Memorial at Main Street and Routes 113/113A. The flag will be raised, and taps played in a short ceremony organized by the Veterans' Memorial Committee.
• The Lovell/Fryeburg VFW Post No. 6783 Memorial Day celebration will start in Lovell Village at 11 a.m. at the Memorial Monument. A service will be conducted with taps played by Fryeburg Academy students. Service members will then assemble at the Legion Hall on Bradley Street in Fryeburg by 12:30 p.m. for a 1 p.m. parade start. Anyone who would like to be in the parade is welcome. The parade will proceed down Main Street to Bradley Park, where there will be a memorial service featuring guest speaker Jarrod Crockett, acting major Army Reserve. For information, call George Weston at (207) 935-2567.
• American Legion Ralph W. Shirley Post 46 of Conway's ceremonies start in Madison at 8 a.m. at the Lyman cemetery on High Street in Silver Lake, followed by a bus ride from Madison Town Hall at 8:30 a.m. to the Gilman Cemetery in East Madison for an 8:45 a.m. ceremony with Kennett Middle School and High School musicians playing taps at 9 a.m. A parade will follow, ending with a flag ceremony at the veterans memorial at Madison Town Hall. Afterward, the Madison Fire Department is offering a community breakfast by donation only at the fire station to support the Madison Old Home Week Committee.
• At 11:30 a.m., members of American Legion Post 46 of Conway will hold a wreath-laying ceremony at the Conway Veterans Honor Roll outside Kennett Middle School. They also will gather at noon at the Conway Village Cemetery on Washington Street in Conway Village, raise the colors, have a military gun salute and lay a wreath. At 1 p.m., veterans will meet at Mineral Springs Rehabilitation and Retirement Center to honor veterans there. At 2 p.m., a light luncheon buffet will be served for members and the public at American Legion Ralph W. Shirley Post 46 on Tasker Hill Road. Call (603) 447-3927 for information.
TUESDAY, MAY 30
• A Memorial Day service will be presented by VFW Post 8270 and Auxiliary of Ossipee at Ossipee Town Hall at 55 Main St. at 11:30 a.m. (Tel.: 539-4181).
Formerly known as Decoration Day, Memorial Day originated after the American Civil War to commemorate the Union and Confederate soldiers who died in the Civil War. By the 20th century, Memorial Day had been extended to honor all Americans who died while in the military.
Credit: Conway Daily Sun (5/26/17)