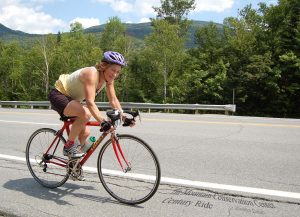 Conway, NH -On Saturday, July 30, hundreds of cyclists that are passionate to support environmental education are gearing up to ride in the 15th annual 2016 Mt. Washington Century Ride, a benefit of Tin Mountain Conservation Center.  Cyclists depart from the Tin Mountain Nature Learning Center on Bald Hill Road in Albany, NH between 6 and 8 AM to begin one of the most challenging Century Rides in New England.  Like-minded cyclists, gathered from distances as far as California, Texas, and Florida, will challenge themselves to a 100, 80 or 40 mile ride looping the base of Mount Washington with breath taking views of forest, stream and mountain.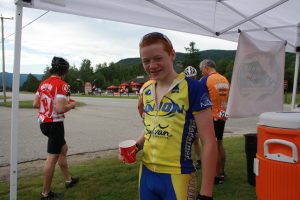 Motorists in the valley this weekend are advised to drive with added caution.  The 100 plus mile route around Mt. Washington whines through the Kancamagus Highway, over Bear Notch Road to Bartlett, following Route 302 through Crawford Notch to Route 115 in Twin Mountain, along Route 115 to Route 2 past Jefferson Notch and into Gorham before heading south on Route 16 past the Mt. Washington Auto Road and over Pinkham Notch.  From Pinkham Notch, the route drops into Glen and back to the Conway area via Route 16 and the scenic West Side Road.
The natural beauty of Mt. Washington and the Presidential Range is without equal.  Cyclists are supported by five aid stations, ham radio operators, Quad Cycle repair van.  A therapeutic sport massage is onsite for returning Mt. Washington Century riders, and a marvelous meal awaits all returning riders.
Thanks to numerous Tin Mountain volunteers and sponsors the ride is extremely well received.
If you missed the online registration, no worry you can still register the morning of the event on Friday evening, July 29 from 6 to 7:30 PM, and on Saturday, July 30 between 6 and 7:30 AM at the Tin Mountain Nature Learning Center in Albany, NH. Interested cyclists can call 603-447-6991, or visit www.tinmountain.org for more information. The first 325 registered cyclists receive an event T-shirt and all cyclists and fundraisers who collect pledges can earn fabulous prizes. All registered riders have an opportunity to win a variety of door prizes.
At the Nature Learning Center, returning riders and their families can relax in the library, stroll on the 138-acre sanctuary, or tour the beautiful "green" facility built with local materials by local craftsman.
Tin Mountain bike event sponsors include: Cadence Wealth Management, L.L.C., Quad Cycles, BikeReg.com, Destination Cycling, Pearl Izumi.
Media Sponsors include WMWV 93.5 FM, Magic 104 FM, The Conway Daily Sun, The Portland Phoenix, and WPKQ 103.7 FM.
Food sponsors The Valley Originals, Bagel's Plus, Green Thumb Farms, Weston's Farms, Memorial Hospital, Sap Hound Maple CO., White Mountain Oil and Propane, and the Hohenboken, Hoyt, and Marshall family.
Special thanks to road support: the Mount Washington Bicycling Club, Coos Cycling Club and White Mountain Radio Amateur Club, Scarecrow Pub, Ragged Mountain Equipment, Bretton Woods Irving Gas Station, Grande View Lodge and Cabins, Mount Washington Auto Road; and, special thanks to the many trustees and volunteers that make this event possible and a great success.
For more information, visit the Tin Mountain Conservation Center website www.tinmountain.org and click on Mount Washington Century +Ride.  The Century homepage provides detailed information about routes, registration, pledge sheets, and other useful information.  You may also call the Tin Mountain Conservation Center for more information at (603) 447-6991.
Tin Mountain Conservation Center is a 501 (c) 3 non-profit environmental education program that promotes an appreciation of the natural environment among children, adults, and families through hands-on programs in the schools, at camps, and in the community and demonstrates responsible stewardship of natural resources through land protection, research, sustainable forestry, agriculture, and energy.
~ Donna Marie Dolan: PR/Communications Manager Tin Mountain Conservation Center
Photo courtesy of Tin Mountain and Katelyn Dolan