Bartlett – The 2015 Miss Mount Washington Valley Teen Scholarship Pageant was held on Sunday, April 26th at the Attitash Grand Summit Hotel in Bartlett. Young ladies representing Chocorua, Conway, Glen, Intervale and Tamworth competed in the 26th year of this scholarship program.
A month of rehearsals led up to the day-lon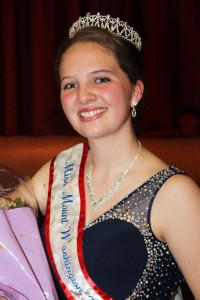 g event. During the morning, contestants participated in Interview and Public Speaking competitions. Following lunch, they joined past participants to tape a piece for the Happy Conway video project. The evening's program, emceed by local radio personality Audley Williams, and son Audley Williams, began with a group welcome routine then progressed to the Formal Wear competition and the optional Talent competition.
When the judge's scores were tallied, 2014 Miss MWV Teen, Mae VanRossum, placed the 2015 crown on the head of 17 year old Jessica J. Hodgkins, of Intervale. The daughter of Kelly Drew and Fred Hodgkins, Jessica is a junior at Kennett High School, where she is a member of DECA, FBLA, Key Club and National Honor Society. Hodgkins also received a trophy for Talent, a Commitment Award, the Hostess Award and the Sales Award.
Courtney A. O'Keefe, First Runner-Up, is the daughter of Tammy and Jim O'Keefe. A Senior at Kennett High School, O'Keefe is 18 years old and lives in Tamworth. She also earned a Contestants Award.
Second Runner-Up, Miranda L. Cottrell, lives in Chocorua and is the daughter of Bob and Debra Cottrell. She is 17 years old and a junior at Kennett High School. Cottrell was also presented with a Commitment Award and a trophy for Talent.
Chey-Anne H. Roy, of Glen, was presented with a certificate for Commitment, a trophy for Talent and the Director's Award. Thea L. Howe-Hayward, of Conway, took home the Personal Growth Award and a Contestants Award.
The 2015 Miss Mount Washington Valley Teen Scholarship Program was sponsored by Mount Washington Valley Promotions, The Grand Summit Hotel & Conference Center, North Conway Community Center, Veno Electric, and The UPS Store of North Conway. Special guest dignitaries attending were Miss Berlin-Gorham Outstanding Teen, Emma Bogardus and Miss Littleton Area Outstanding Teen Reagan Murphy.
Look for the Queen and her Court at numerous events throughout the Valley in the coming year.