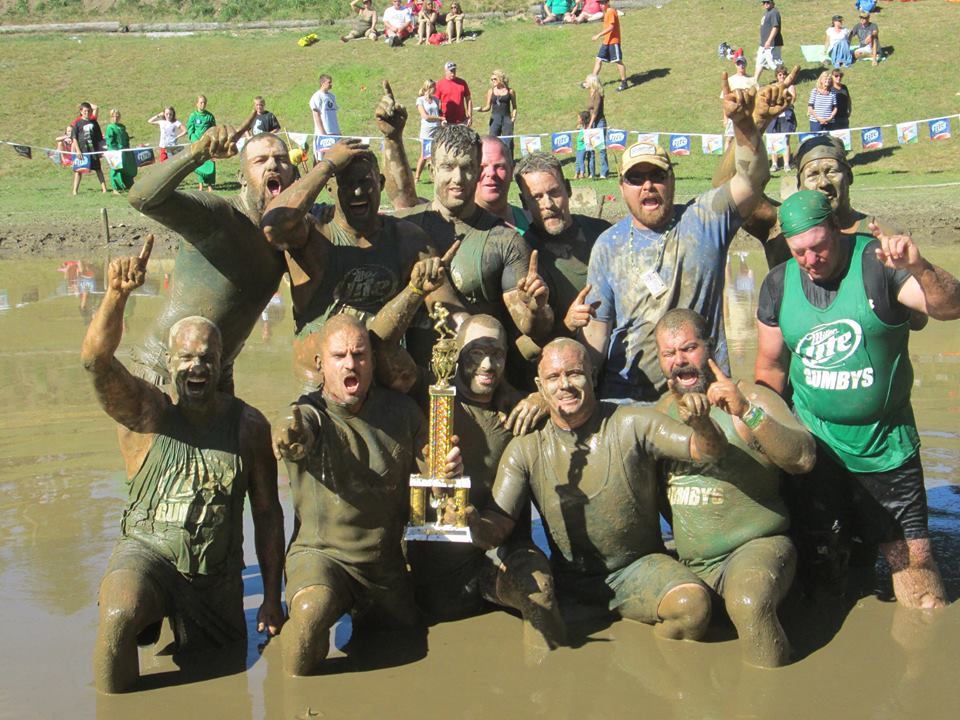 2014 Mud Bowl Champion Nashua Mud Gumbys (Photo Courtesy of Tom Eastman/Conway Daily sun)
NORTH CONWAY (Courtesy Of Tom Eastman) — Mud Bowl, the championships of mud football, will celebrate a theme of "Mud Bowl Takes a Muddy Look at Children's Books" when the mud touch football games splash off at Steve Eastman Memorial Field at North Conway's Hog Coliseum the weekend after Labor Day, Friday through Sunday, Sept. 11 through 13. The theme will be used by participants in the team and the open class for the 33rd Tournament of Mud Parade, set for North Conway's Main Street Saturday, Sept. 12, at 10 a.m.
Team parade themes are: Nashua Mud Gumbys, "The Night Before the Grinch Stole Christmas;" Muddas Football Club, "Are You My Mother?" Jack's Predators, "Little Red Riding Hood;" Mount Washington Valley Hogs, "Wizard of Oz;" Carrabassett Valley Rats, "TBA" Rowley, Mass. Mud Ducks, "Make Way for Ducklings;" the Merrimack Mudcats, "TBA;" and North Country Crocs, "Muddy Mother Goose Nursery Rhymes."
The Cumberland (R.I.) Muckaneers and the North Shore Mudsharks will not have floats this year as they entered a silent drawing not to enter a float but they will be competing in the football games.
The parade is sponsored by longtime Mud Bowl sponsors Amoskeag Beverages, LLC, of Bow, N.H., distributors of Miller Lite Beer. Prizes are offered for first, second and honorable mention in the Open and Team Classes. Prizes are awarded to the winners' charity of choice. Prize amounts are $250, $150 and $100.
Selected as grand marshals for the 2015 Tournament of Mud Parade are Jackie Howe and Benny Jesseman, longtime Mud Bowl Committee officials who have recently retired from their posts as executive directors of the North Conway Day Care center and Carroll County Retired Senior Volunteer Program, respectively. They are continuing their involvement with Mud Bowl, despite retiring from the two organizations, both of which along with the North Conway Community Center are among Mud Bowl's three primary beneficiaries.
The Mudbassadors cheerleading squad have created a book based on books by Bill Martin/Eric Carle. It is called "Mud Bowl Fan, Mud Bowl Fan What Do You See?"
Three-day tickets are $15; day tickets are $6 ages 14 and up, and $4 ages 6 to 13; family tickets (two adults, two children) are $15 per day. Advance tickets can be purchased at the North Conway Community Center, The North Conway Day Care, Mount Washington Valley Chamber of Commerce, The Met Coffehouse, and Hannaford, all in North Conway, and Home Run Sports Training Center on Hobbs Street in Conway.
Three-day tickets serve as entry to two $500 prize drawings held Saturday and Sunday (one need not be present to win).
Proceeds benefit local charities, with more than $860,000 having been raised since the first games were played locally in 1976. The games feature two-hand touch football, played in knee-deep mud, with seven players per side. For Mud Bowl event information, visit them on Facebook  by clicking here.
Groups should register with parade chair Bobbi Steele-Marotta by Sept. 1 For more information, and for registration forms, call her at (603) 496-4404 or e-mail her at [email protected], or contact parade assistant Josh Snell at [email protected] or (603) 986-5214.