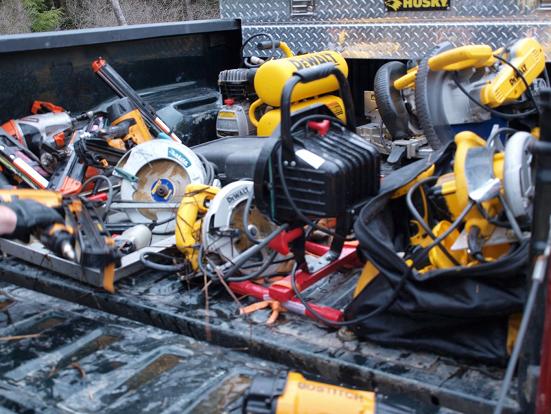 Meredith, NH – A search for a stolen skid-steer lead to the uncovering of a $40,000 theft ring. According to New Hampshire state police On May 4, 2016, at approximately 9:18 AM, Trooper Nicholas Iannone, was called to assist the Hebron Police Department with the investigation into a stolen skid-steer.
Over the next two days, the investigation evolved and uncovered a large theft ring involving amongst other items, construction equipment, landscape equipment and power tools, a golf cart, a horse trailer and a dump trailer in central New Hampshire, identifying victims from the towns of Meredith, Bristol, Bridgewater and Plymouth.
The New Hampshire State Police-Troop F in conjunction with the Bristol Police Department, Hebron Police Department and the New Hampshire Fish and Game Department identified three main suspects responsible for the thefts and recovered numerous items from an abandoned piece of property in Meredith, a residence in Bristol, a pond in New Hampton and a pond in Meredith.
The recovery of some of the items in the two ponds would not have been possible without the assistance of Conservation Officer Josiah Towne of the New Hampshire Fish and Game Department who braved the frigid water in the two ponds to recover the property.
It was determined that the value of the items recovered was in excess of $40,000. No arrests have been made at this time as the investigation is on-going. Indictments will likely be forthcoming. Anyone with any information is encouraged to contact the New Hampshire State Police-Troop F at 603-223-8647