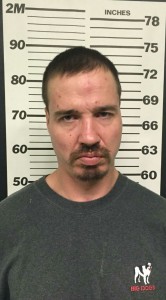 A courageous 8-year-old boy in Fryeburg helped to save his mother from a domestic assault. According to Fryeburg Police they received a 9-1-1 hang up call from an apartment on Cobb Street around 6:20 last night. When they went to the location they found that a man, later identified as 42 Year old Kurtis Howard, had assaulted a woman and her child at the residence then fled on foot into the woods nearby.
Fryeburg Rescue responded to the scene to treat the victims, while Officers from Bridgton Police, and a K9 from the Windham Police Department responded to help locate the suspect. While waiting for the K9 Team to arrive on scene, Fryeburg Police located Howard in the woods behind the apartment complex when he attempted to return to the apartment. After a brief foot pursuit, Howard was taken into custody.
He is being charged with Obstructing the report of a crime Aggravated Domestic Violence Assault, Domestic Violence Assault, and was found to have 4 Active warrants of arrest for Criminal Trespass, Criminal Mischief, OUI, DV Assault, DV Criminal Threatening, and Violating conditions of release.
Fryeburg Police Chief Joshua Potvin said "A courageous 8 year old boy called 9-1-1 after witnessing his mother being assaulted. The boy tried protecting his mother by hitting the suspect with a plastic baseball bat. The suspect allegedly took the bat from the child and struck him with it before fleeing the scene. We are holding this suspect accountable as we will all offenders when they commit these types of unacceptable acts."