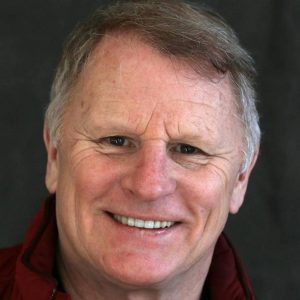 Actor Gordon Clapp first found inspiration in poet Robert Frost's prose as a sophomore at South Kent prep school in Connecticut.
"I like to say that I took him with me and he brought me home," said the award-winning television, stage and film actor who portrays Frost in A.M. Dolan's "Robert Frost: This Verse Business."
Last night's performance at the Paul Creative Arts Center's Johnson Theatre is the final show of the University of New Hampshire Celebrity Series.
Clapp, who hails from North Conway and now calls Norwich, Vt., home, parlayed a leading role in the John Sayles cult TV series "The Return of the Secaucus Seven" in 1979 with a long run on "NYPD Blue," on which the Emmy Award-winning actor played Det. Greg Medavoy for 12 seasons. On stage, Clapp received a Tony nomination in 2005 for his portrayal of Dave Moss in the all-star revival of David Mamet's "Glengarry Glen Ross."
Clapp was drawn to Frost's work when he read "Out Out," a story about a farm boy who sustains serious injuries and dies. It's a less frequently read Frost poem, and not one you're likely to see on a greeting card as it finds meaning in sadness and loss rather than the serenity of bucolic surroundings.
The poem shook Clapp.
"As a student, it got to me," Clapp said. "I had known some of Frost's work but I realized there was a lot more to this guy than the Hallmark card kind of poetry that I'd read earlier. When I read 'Out Out,' I wrote a big paper about it, and that's when my interest in Frost really took off."
After reading Lawrance Thompson's three-volume biography about Frost while studying at Williams College in Massachusetts, Clapp developed a whole new perspective on the Frost family and a multi-dimensional life the poet rarely talked about.
Flash forward…
Three and a half decades later, "This Verse Business" presented itself to Clapp.
"Suddenly this script dropped into my lap," Clapp said. "My friend Jon DeVries gave it to me and then put me in touch with Andy (A.M.) Dolan, who wrote it. Andy and I partnered up to see what we could do, (to) see if it was stage worthy."
After a test run in a friend's basement pub, the two made some tweaks and the play's first performance was at the Hanover Inn during Christmas 2008.
"There were no bells and whistles, no wig, no bushy eyebrows, and that's when we realized that it had a wonderful impact," he said, adding, "but there was still something missing."
That something turned out to be a more theatrical quality. Enter Peterborough Players Artistic Director Gus Kaikkonen who told Clapp there was a lot more opportunity for performance than the actor was allowing himself.
"'Death of a Hired Man' is a little play (that is recited in "This Verse Business"), and at that time I was reading it like a bedtime story, all the while trying to stay loyal to Frost's persona and delivery — and that New England accent," Clapp said.
Though the character in the script was to read the passages directly from the pages, Clapp decided to go in a different direction.
"I dropped the book and did it as a performance, which brought the thing to a whole new level," he said.
"This Verse Business" is broken down into two parts — the more formal lecture hall and the rural farm house. The settings are separated by a moment when Frost has taken off his jacket and waits at the roadside.
"As the set gets staged for the farm house scene, Frost has this wonderful talk about science and his affection for science — something you wouldn't think he'd talk about. It's a nice sidebar," Clapp said.
As an actor, doing a one-man show has its obvious challenges even for seasoned performer like Clapp.
"You're out there without a net," he said. "So when suddenly a word is out of place and I can't remember where I am, the book of poetry is right there and fortunately I'm playing an 89-year-old who might have an occasional lapse in memory."
At most performances of the play, there are what he fondly refers to as "Frost Stations" — seven or eight kindred spirits in the audience who he can see are completely engaged and right there with him.
"Frost Stations are people who are going to take me through the evening, who are either witness to Frost or his former students or neighbors. They let me know I'm bringing him back to life and to this century, and that's very gratifying," Clapp said.
Story provided by: Roxanne Rubel; Special to the Union Leader
http://www.newhampshire.com/article/20170406/NEWHAMPSHIRE01/170409614