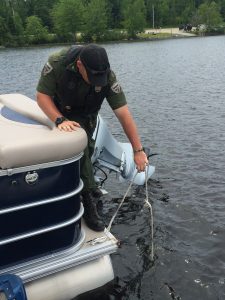 Errol, NH – On June 19, 2016 at approximately 3:14 AM, State Police Troop F Dispatch was notified of a missing/runaway, Lane Lesko, 19, of Ann Arbor, Michigan who was last seen at a remote camp site on Lake Umbagog. Lesko was at this camp site as part of a camping/canoeing trip organized by Summit Achievement. New Hampshire State Police responded to Umbagog Lake State Park Campground in Cambridge where they requested assistance from New Hampshire Fish and Game Conservation Officers with searching and transportation out onto Lake Umbagog.
As information was processed, officer's found out that the remote camp site Lesko was last seen at was in Magalloway Plantation in the state of Maine near the Rapid River. Officers were advised that a green canoe and a paddle were missing from the campsite. With this information Maine Warden Service and Maine State Police were notified of the situation and both began responding to Lake Umbagog. New Hampshire Marine Patrol was also made aware of the search and responded to assist searching this large interstate waterbody.
At approximately 8:15 AM, Eric Verratti of Northern Waters Outfitter's was traveling by boat across the northern end of Lake Umbagog when he located an overturned green canoe in the area of Pine Point, not far from the area Lesko had been camping. Officers went back with Verratti to the location where the canoe had been located and marked its location in about 7 feet of water.
At approximately 8:42 AM, a person staying at Lake Umbagog State Park Campground, called State Police Troop F to report that their truck had been stolen during the overnight. This location was approximately 7 miles south of where the canoe was found.
All agencies continued searching various areas of Lake Umbagog for more evidence of Lesko to include the Maine Warden Service Airplane. At approximately 10:40 AM State Police Troop F was advised that Paradise Point Cottages had a pontoon boat docked in a slip of theirs that didn't belong. Paradise Point Cottages is located in Cambridge beside Lake Umbagog State Park's Campground. Upon investigating into the parked pontoon boat, it was connected to have been stolen from a remote camp in the area of the Rapid River. An Umbagog Lake State Park employee that was out on boat transporting items in the area of the Rapid River located the pontoon boats owner and relayed them back to the campground.
Photo Courtesy of New Hampshire Fish and Game