Hey Blues Lover! Thank you for being a fan of WMWV's Blues Summit!

The Blues Summit celebrates 25 years on the air in 2018!
Don't miss the Blues Summit. The best of the blues from the 1920's to the latest releases, including interviews with the biggest stars and up 'n comers! Tell your blues friends around the world they can catch the show every Wednesday, 6-9 pm eastern with WMWV's live stream. Click on the big button to the right!
Free CD Features the American Epic
Sound Restoration Technique!
Big Bill Broonzy & Charley Patton
HAVE NEVER SOUNDED BETTER!
You'll LOVE it!!

Celebrating PBS' & the BBC's

You Will LOVE THE NEW SOUND!
Hear these 23 tracks as you've never heard them before!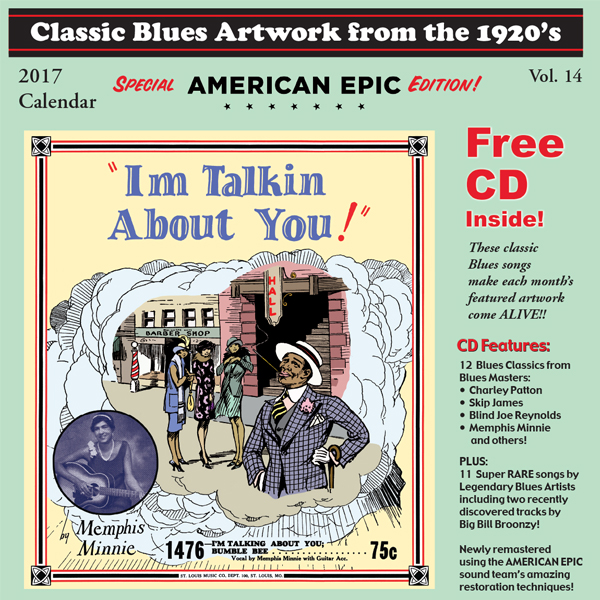 Get your new 2017 Blues
Artwork Calendar with Free CD!
Featuring 23 classic Pre-War Blues songs from such artists as:
Charley Patton, Skip James, Blind Joe Reynolds, Blind Blake, Memphis Minnie,
Big Bill Broonzy, Mobile Strugglers, Blind Willie Johnson, Garfield Akers and more!!
Front cover • Back cover • Sample month • Included FREE CD





Can't catch the Blues Summit on Wednesday Night?
No Worries!
Catch the PODCAST!
Tell your blues friends to listen to your favorite blues show on Soundcloud.
That's right! Listen to the Blues Summit at your convenience!
Click on Roy's smiling face here or on the Homepage.
How can you help Keep the Blues Alive? Join the Blues Foundation!
It's very affordable and has great perks too!