Hey Blues Lover! Thank you for being a fan of WMWV's Blues Summit!
The Blues Summit celebrates 20 years on the air in 2013!
Save The Date! Arts Jubilee Brings The Blues To The Stage At Cranmore Mountain Resort.
Thursday July 25th at 6 pm. Arts Jubilee celebrates the 20th Anniversary of the Blues Summit! Florida based Doug Deming & Dennis Gruenling With The Jewel Tones. With the local band Mo Blues opening the evening! Details to follow!!!!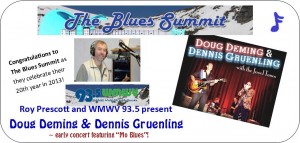 Don't miss the Blues Summit. The best of the blues from the 1920′s the the latest releases, including interviews with the biggest stars and up 'n comers! Tell your blues friends around the world they can catch the show every Wednesday, 6-9 pm eastern with WMWV's live stream. Go to the Home Page and click the big button!
How can you help Keep the Blues Alive? Join the Blues Foundation! It's very affordable and has great perks too!

Help Raise The Roof of the Blues Hall of Fame. For many years during the Blues Music Awards celebrations, there are inductions into the Blues Hall of Fame. Now we want to build a home for the inductees. You can help!

Looking for the perfect gift for that hard to shop for blues fan?
It's the Amazing Blues Images Calendar!!

Includes a 21 track FREE CD!
Never-before-seen-photos of
Memphis Minnie & Lil McClintock!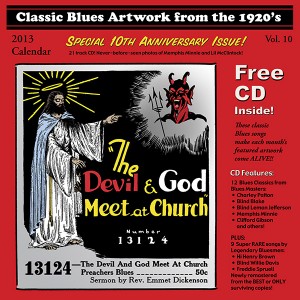 Get your NEW 2013 Blues
Artwork Calendar with Free CD!
Featuring 21 classic Pre-War Blues songs from such artists as:
Blind Lemon Jefferson, Blind Blake, Charley Patton, Clifford Gibson,
Freddie Spruell, Hi Henry Brown, Memphis Minnie and more!!
2013 Blues Calendar & CD (Vol. 10) $19.95 + S/H
• Add to cart and check out
• Add to cart and keep shopping
• View your shopping cart
Front cover • Back cover • Sample month • Included FREE CD