Hey Blues Lover! Thank you for being a fan of WMWV's Blues Summit!
The Blues Summit celebrates 21 years on the air in 2014!
Don't miss the Blues Summit. The best of the blues from the 1920's to the latest releases, including interviews with the biggest stars and up 'n comers! Tell your blues friends around the world they can catch the show every Wednesday, 6-9 pm eastern with WMWV's live stream. Click on the big button to the right!
How can you help Keep the Blues Alive? Join the Blues Foundation! It's very affordable and has great perks too!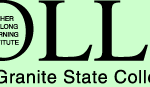 Blues Summit Host To Offer A Course At Granite State College's Osher Lifelong Learning Institute.
That's Right!! If you are 50+ years old, sign up for the course I'll be presenting in November! Click the logo above for full details.
America's True Music: The Blues, 1920s to the Present
10410                                       Class Size: Min: 10  Max: 30
3 Thursdays: 11/6-11/20                                 3:30-5:00 PM
Granite State College, 53 Technology Lane, Conway
Member Class Fee: $25
Blues music is an American art form. Slaves from Africa worked the plantation fields in the deep south and developed a means of communication by "hollering" using a form of singing. Through discussion and music, follow the progression from the fields, to front porches, to juke joints and the recording of "Race Records." Explore the movement of free blacks north to Chicago and the "plugging in" of instruments. Head "across the pond" to see the influence of the blues music in Britain in the 1960s. See who's keeping the blues alive, from elder statesmen to the new faces of the blues.
Help Raise The Roof of the Blues Hall of Fame. For many years during the Blues Music Awards celebrations, there are inductions into the Blues Hall of Fame. Now we want to build a home for the inductees. You can help!