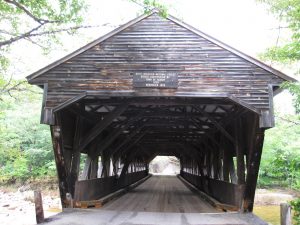 Albany, NH – Fire crews continued to work to contain the Covered Bridge Fire near Albany. The brush fire started Saturday burning along the Swift River and continues to burn through the dry leaf litter heading west of the Big Brook drainage in the Boulder Loop climbing area. No structures have been lost and currently no structures are being threatened.
As of this morning (Monday 11/14/16), the fire is estimated to have grown to 236 acres. Crews consisting of local and surrounding fire departments along with Forest Service crews continue to work to secure a line around the fire. Approximately 45 people are currently assigned to the fire. Additional fire resources arrived this morning from the State of New Hampshire and State of Maine.
"We are fortunate to have a strong professional fire community in New England, where when there is a need, our neighbors show up to help," said White Mountain National Forest Fire Management Officer O'Brien.
Firefighters from Conway Village, North Conway, East Conway, Wolfeboro,   fire departments have been diligently working to contain this fire since Sunday morning.
This area has not seen fire for over a 100 years, which means there is good potential for snag hazards along the entire fire perimeter and fire line in addition to the interior.
Passaconaway Road and the Albany Covered Bridge remain closed, as well as the Boulder Loop Trail which is in the interior of the fire. For public safety, the Forest continues to advise that people stay away from the area until the fire is contained and completely out. Fire updates will be released as soon as they are received, or at least daily until the fire is 100 percent contained.