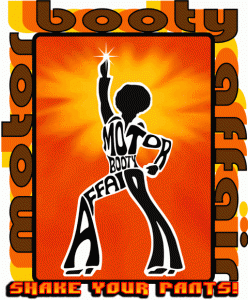 In conjunction with the Be Kind Festival, 93.5 WMWV is proud to announce that they will be bringing in Motor Booty Affair for a FREE , live concert on Saturday, May 18th in Schouler Park, North Conway Village.
Motor Booty affair was named Portland's "Best Live Show" by the Portland Phoenix. Wearing 1970's get-ups, complete with bell bottoms, giant colorful afros, and shirts that may hurt your eyes if you stare, Motor Booty Affair moves everyone to get up and dance.
"We get a lot of young clientele who appreciate the funk, and we get older people who lived through it," says drummer Cyclone Link Skywalker, Jr. "We'll make everyone from the toddlers to the grand mamas get out there and dance." 

From their eye-popping costumes to their between-song antics, to their flat-out funky get down, Motor Booty is sure to entertain. The playlist includes the Bee Gees, ABBA, KC and the Sunshine Band, and the Commodores, but band members welcome other funky requests.

The show will be at 7pm, in Schouler Park, once again as part of Be Kind Fest. The festival is a weekend long series of dynamic speakers, music, food, arts, and of course lots of kindness. Some of the more unique features this year include a 100' canvas of essays and art from 9 local elementary schools, a butterfly release honoring hospice patients and a candlelit labyrinth. Hundreds of people are expected to turn out to commit thousands of random acts of kindness throughout the valley on Saturday morning, then enjoy events throughout the day and into Sunday which includes a free day at Mount Cranmore's Adventure Park. For a complete list of events and details, visit www.bekindfest.com
Be kind Fest is a joint fundraiser for Evergreen Institute for Wellness and Visiting Nurse, Home Care and Hospice of Carroll County.
Be there, or be square!