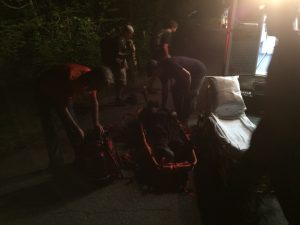 Jackson, NH-A man was struck by lightning on Crawford Path this weekend. Fish and Game Officials reported that 51-year-old Glen Rowland of Newtown Connecticut was hiking the trail Saturday when he was struck, but did not want to call for help so he slowly made his way down off the ridgeline into the scrub brush to spend the night. He continued his slow and painful hike down Crawford Path the next day refusing the aid of multiple hikers.
A group of unidentified Windham NH Firefighters came across Rowland and refused to not help him. The group assisted Rowland hand in hand down Crawford Path for quite a distance. Rowland and the Fire Fighters eventually met up with the Twin Mountain Resue crew approximately one half mile up the trail from Mt. Clinton Road in Beans Grant. Rowland was assessed on the trail and subsequently packaged up into a litter to be carried down the trail.
Rowland was checked out by Twin Mountain Fire, Rescue and Ambulance and was recommended further aid at the hospital however Rowland again declined and received a ride, from the Conservation Officer, to his vehicle parked at the Cog Railway.