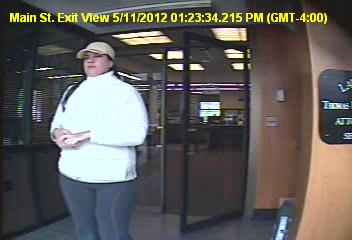 PHOTO COURTESY CONWAY P.D.
CONWAY POLICE CONTINUE TO LOOK FOR A WHITE FEMALE WHO ALLEGEDLY ROBBED A CONWAY BANK BRANCH EARLY FRIDAY AFTERNOON, MAY 11.
LT. CHRIS PERLEY SAYS SHORTLY BEFORE 1:30 P.M. FRIDAY, THE SUSPECT – DESCRIBED AS BEING 5 FEET 7 INCHES TALL, WEIGHING 200 POUNDS WITH LONG DARK HAIR IN A PONYTAIL, WEARING A LONG SLEEVE YELLOW SHIRT OR JACKET, BASEBALL CAP AND SHOULDER BAG OR PURSE – ROBBED THE BANK OF NEW HAMPSHIRE AT 23 MAIN STREET IN CONWAY VILLAGE.
NO ONE WAS HURT.
PERLEY SAYS THE SUSPECT THEN LEFT THE BANK AND GOT INTO A LATE MODEL DARK COLORED SUV WITH A LIGHTER COLORED LOWER SECTION IN THE AREA OF DAVID HAINE REALTY.
THE VEHICLE WAS LAST SEEN HEADING TOWARD PLEASANT STREET.
NEW HAMPSHIRE STATE POLICE, THE CARROLL COUNTY SHERIFF'S OFFICE AND THE F-B-I ARE ASSISTING IN THE INVESTIGATION.
ANYONE WITH INFORMATION ABOUT THE CASE IS ASKED TO CALL CONWAY POLICE AT (603) 356-5715.