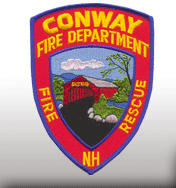 Conway, NH – There was a fire in Lamplighter Trailer park this weekend. According to Conway Fire Chief Steven Solomon they received a call to a fire on Buckingham Drive at around 3:55am Sunday.
When Fire Crews arrived the trailer was fully engulfed in flame. The occupant of the home was able to escape the flames uninjured after being woken up by his smoke detector. Authorities said it appeared that the fire began in the Car port then spread to the living room.
The fire was under control by around 4:30am and the scene was cleared by around 9:20am. The building was a total loss and the cause of the fire was ruled indeterminate.
Tamworth, NH – A man in his 70's spent the night on Mt Chocorua after injuring his leg this weekend. According to NH Fish and Game the man was hiking on the Mountain Saturday when he injured his leg and ended up having to spend the night.
Conway Fire Chief Stephen Solomon said they located the man about 3 miles from the trail head Sunday morning. Though the man's injuries were non-life threatening he couldn't make it down the trail on his own. After assessing the victims injuries rescue crews called for assistance for a carryout. The Chief said that since the terrain was too steep to use a liter they needed more manpower in order to carry the victim out.
With the assistance of NH Fish and Game Conservation Officers, the Tamworth Fire department, and others they were able to carry the man down making it to the trail head around 3pm Sunday. He was taken to a hospital from there for treatment.