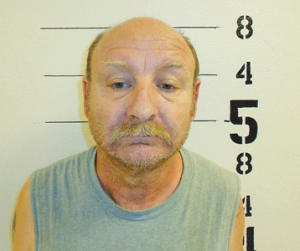 Photo of 53-year-old Glenn Doe of Center Conway Courtesy of Police
Conway, NH -A Conway Man is under arrest after he allegedly held his neighbor at gunpoint. According to the Police logs officers responded to a call about a disturbance involving gun shots on Old Mill Road at around 10 o'clock Tuesday night.
According to a probable cause affidavit James Porter and 53-year-old Glenn Doe were working on a car at Porters house when Doe went into his home. Porter then allegedly heard a gun shot come from inside Doe's house and went over to investigate, at which point Doe allegedly held him at gunpoint.
One of the officers that responded to the call allegedly saw James Porter pointing a semi-automatic rifle at Doe. The officers were eventually able to get Porter out of the residence safely and without incident. Officers were also able to get Doe, who they noted in the affidavit was intoxicated, outside and into custody.
Apon a search of the home police found a semi-automatic rifle and took it as evidence. They also discovered an alleged bullet hole in the rear of the home, that they suspect to be consistent with the weapon that was fired. A search of Doe's person revealed he had 2 loaded magazines for the rife, as well as a loaded hand gun in his pocket.
Doe is being charged with Class B felony reckless conduct for allegedly firing the gun toward Route 302 from within his house. He is also being charged with Class A felony kidnapping as well as Class B felony criminal restraint for allegedly holding Porter at gunpoint and preventing him from leaving. According to the Conway Daily Sun Doe was ordered held on $25,000 cash bail Wednesday Morning.