Thomas Heath, Photo Courtesy Conway P.D.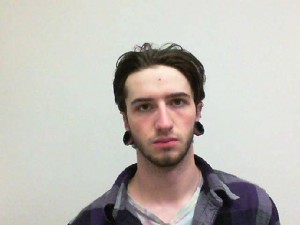 CONWAY POLICE HAVE CHARGED A 21-YEAR-OLD CONWAY MAN WITH TWO FELONY COUNTS OF MANUFACTURING AND POSSESSION OF A CONTROLLED DRUG AFTER ALLEGEDLY DISCOVERING A MARIJUANA GROW OPERATION AT THE MAN'S HOUSE AT 148 KANCAMAGUS HIGHWAY.
LT. CHRIS PERLEY SAYS A COURT AUTHORIZED SEARCH OF THE HOME OF THOMAS HEATH LATE MONDAY MORNING RESULTED IN THE SEIZURE OF A LOADED HIGH POWERED RIFLE, 20 MARIJUANA PLANTS AND MARIJUANA GROWING SUPPLIES.
CONWAY OFFICERS WERE ASSISTED IN THE RAID BY NEW HAMPSHIRE STATE POLICE AND MEMBERS OF THE NEW HAMPSHIRE ATTORNEY GENERAL'S DRUG TASK FORCE.
PERLEY SAYS HEATH – WHO IS KNOWN TO POLICE AND HAS BEEN CHARGED BEFORE FOR ALLEGED ALCOHOL AND MOTOR VEHICLE INFRACTIONS – WAS ARRESTED WITHOUT INCIDENT.
HEATH WAS ALLEGEDLY GROWING THE PLANTS HYDROPONICALLY, WHICH MEANS THEY WERE IN A NUTRIENT SOLUTION INSTEAD OF SOIL.
HEATH FACES A POTENTIAL MAXIMUM STATE PRISON TERM OF UP TO 14 YEARS AND A FINE OF $100,000, IF CONVICTED.
HE'S CURRENTLY BEING HELD ON $3,000 CASH BAIL AND IS DUE TO APPEAR IN DISTRICT COURT IN CONWAY TUESDAY MORNING.