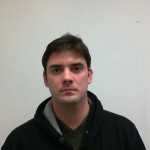 Luke J. Porter, photo courtesy of Conway P.D.
Conway Police say they have identified a suspect in connection with the armed robbery of a store in Conway late in 2013.
Lt. Chris Perley says a felony arrest warrant has been issued for 32-year-old Luke J. Porter of 379 White Mountain Hwy., Unit 21, in Conway.
Police allege porter entered the family dollar at 234 White Mountain Hwy. In the Shurfine Plaza late in the afternoon of Saturday Dec. 28, 2013, showed a handgun and took money from the cash register after pushing aside a female worker, who was not hurt.
Perley says a person of interest was developed after investigators searched a nearby motel room and found items believed related to the robbery. Citing the work of his officers, the detective division and detective Ryan Wallace in particular, Perley says he thinks the Conway community can now feel a collective sense of relief.
Porter is described as being white, about six feet two inches tall, weighing about 200 pounds with brown hair and eyes.
Perley says the case is still active and ongoing as police look for Porter, who they believe has left the Conway area and may be armed and dangerous.
Porter's identity has been entered into a national law enforcement database. Anyone who sees Porter or knows where he is asked to not approach him but call local police.