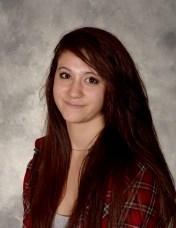 Abigail Hernandez
Conway Police are asking for the public's help in finding a 14-year-old north Conway girl who went missing Wednesday.
Lt. Chris Perley says Abigail Hernández of village way was last seen walking away from Kennett high school at the end of the school day Wednesday around 2:30 p.m.
She's described as Hispanic, 5 feet four inches tall, weighing 118 pounds with brown hair and eyes with a light olive complexion. She was last seen wearing black yoga or stretch pants and a grey sweatshirt.
Hernandez was reported missing Wednesday by her mother, Zenya Hernández.
Reports indicate firefighters from all five Conway departments were called late Thursday morning to search near village way and assemble at the Thompson Rd. Trailhead to help search near Puddin' Pond.
The pond is located across north south road from Village Way.
Perley says a K-9 team from New Hampshire State Police searched for Abigail Wednesday and police believe she did make it to her home on Village Way before she disappeared.
Anyone who has information about Abigail is asked to call Conway Police at (603) 356-5715.