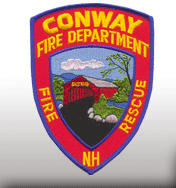 A Conway woman lost not only a home but also a business in a major fire this morning. The early morning Fire in the Center Conway Village had authorities shutting down a section of East Main Street, the Intersection of Route 302 and 113 in Conway, as well as a part of Mill Street around 5:30am. The roads were reopened around 9:30am. The cause of the blaze has yet to be announced.
The home is owned by Kathie Veno according to a Go Fund me page created to help her after her loss. She, her two young sons and pets were able to get out safely. Though the extent of damage isn't assessed yet, it appears quite significant.
The Go Fund me page also says that Kathie ran a Day Care Facility out of her home, which was her only source of income. The page has already raised $425 of their $5,000 goal. If you would like to donate you can find a link to the go fund me page by clicking here.