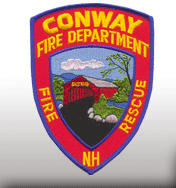 Conway, NH – A Conway home was destroyed and two people were hurt by a quick moving fire yesterday. According to reports fire crews were called to the fire at 70 Mountain View Drive at around 12:30pm and was escalated to a 2 alarm fire by 1pm. According to Conway Fire Chief Steve Solomon the house was already fully involved when they arrived on scene but they were able to knock it down quickly. However the home, attached two-car garage, and a woodshed behind the home was destroyed.
According to the Conway Daily Sun one of the homeowners, Denis Frechette, was home at the time and was able to out, but unfortunately his dog and cat did not. The Sun reports that a neighbor saw Frechette on the ground and injured. A fire fighter was also injured while attempting to put out the blaze.
The Red Cross said that Action Team volunteers have met with the residents and have ensured everyone has a safe place to sleep and has food, clothing and other essentials. Chief Solomon said that they have no yet determined the cause of the fire.