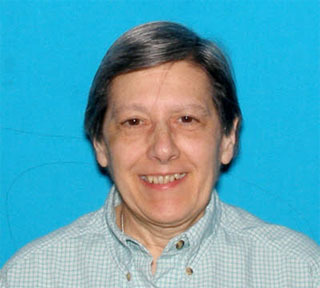 [Update]
New Hampshire Fish and Game officials say they believe the body of a woman found in a river in the White Mountains is that of a missing Massachusetts hiker. Authorities have been searching since Wednesday for 64-year-old Clairemarie Cocuzzo of Westwood, Massachusetts. They say a tip came in Friday that someone matching her description was staying at the Gale Head Hut atop Garfield Ridge the night of Sept. 29. That was a week earlier than officials thought she'd arrived in the state to go hiking, and at a time when heavy rains drenched the state. Authorities say the body was found in the Gale River in Bethlehem on Friday. They believe the woman had been swept away while crossing the swollen river. Positive identification will be made by the medical examiner.
White Mountain National Forest, NH – The New Hampshire Fish and Game Department is looking for help locating a missing hiker. Authorities say Claire Marie Cocuzzo, of Westwood, Massachusetts had planned to hike in the White Mountain National Forest from October 5 through October 10.
Her itinerary was to hike from Mount Garfield Trailhead to Bond Cliff and back which is approximately 26 miles. A family member reported her missing when she did not return, as planned.
She is described as a 64 year old female with gray hair and brown eyes.  She is 5'2" tall and weighs 120 pounds.  Any person who saw Ms. Cocuzzo or had any interaction with her along the trail is encouraged to call the New Hampshire Fish and Game Department at (603) 271-3361.