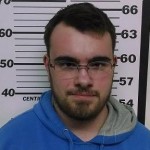 Dylan Thorner, courtesy Fryeburg P.D.
Police in Fryeburg, Maine say a 19-year-old Fryeburg man accused of breaking into a number of homes and a business in the East Fryeburg area has been arrested again and faces additional charges.
Detective Sgt. Josh Potvin says Dylan Thorner of 1302 Bridgton Rd. – Route 302 – was taken into custody Monday night after an investigation into his allegedly inappropriate conduct with a 13-year-old Fryeburg girl.
Thorner is charged with a felony – violating conditions of release – and misdemeanor endangering the welfare of a child – after allegedly giving the girl tobacco products last weekend and having inappropriate computer conversations with her that were discovered by the girl's parents.
Thorner had been out on bail in connection with the East Fryeburg burglaries. He is now being held at the Oxford County Jail without bail.
Potvin says more charges could be filed after computer equipment is examined.