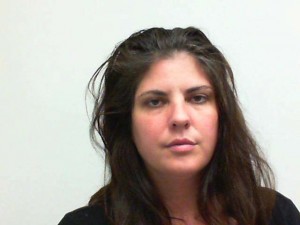 PHOTO COURTESY CONWAY P.D.
CONWAY POLICE SAY A 36-YEAR-OLD GORHAM, NEW HAMPSHIRE WOMAN WAS SCHEDULED TO APPEAR IN A CONWAY COURT EARLY MONDAY AFTERNOON AFTER BEING ARRESTED THIS WEEKEND IN CONNECTION WITH LAST MONTH'S ROBBERY (MAY 11, 2012) OF A BANK OF NEW HAMPSHIRE BRANCH IN CONWAY.
DETECTIVE SGT. AL BROYER SAYS ROXANNE GILLIS ESTY OF NORTH MAIN STREET WAS ARRESTED EARLY SATURDAY MORNING AFTER POLICE INTERVIEWED HER AND GOT A WARRANT TO SEARCH HER RESIDENCE.
GORHAM POLICE ASSISTED.
BROYER SAYS POLICE RECEIVED INFORMATION ESTY WAS THE WOMAN WHOSE PHOTO HAD BEEN RELEASED IN CONNECTION WITH THE MAY 11, 2012 ROBBERY IN CONWAY.
BROYER SAYS INVESTIGATORS FROM THE YORK, MAINE POLICE DEPARTMENT ALSO HELPED AND POLICE ALLEGEDLY FOUND EVIDENCE IN ESTY'S HOME LINKING HER TO THE MAY 29, 2012 ROBBERY OF A KENNEBUNK SAVINGS BANK BRANCH IN YORK.
ESTY IS BEING HELD AT THE CARROLL COUNTY JAIL ON $50.000 BAIL.