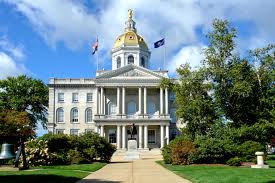 Concord, NH – Gun owners in New Hampshire no longer need a permit to carry a firearm concealed. Governor Chris Sununu signed constitutional carry into law this morning.
Senate Bill 12 eliminates the need for a permit to carry a concealed pistol of revolver in the state. The new law also increases the length of time that a conceal carry permit is valid from four years to five years. It also requires the director of the division of state police to negotiate and enter into agreements with other jurisdictions to recognize in those jurisdictions the validity of the license to carry issued in this state.

Residents and non-residents who wish to continue participating in the concealed pistol or revolver permit system may continue to file applications with either their New Hampshire city or town as previously required, or in the case of a non-resident seeking a concealed pistol or revolver permit, an application will need to be filed with the Department of Safety, Division of State Police Permits and Licensing Unit.
Concealed pistol or revolver permits issued within the State of NH will be required for residents and non-residents seeking to carry under a reciprocity agreement within another state.
After signing the Bill Governor Sununu said "SB12 ensures New Hampshire citizens are guaranteed the fundamental right to carry a firearm in defense of themselves and their families, as prescribed by Article 2a of our state constitution, this common sense legislation aligns our concealed carry laws with that of our neighboring states of Vermont and Maine and states across the country. This is about safety. This is about making sure that the laws on our books are keeping people safe while remaining true to the Live Free or Die spirit that makes New Hampshire the great state that it is. This is a commitment I made to the people of New Hampshire and I am proud today to fulfill that commitment."
**New Hampshire law prohibits the possession of a firearm under the following:
Felony conviction against person or property
Felony conviction in violation of RSA 318-B, the New Hampshire Controlled Drug Act, or
The subject of a valid domestic violence protection order.