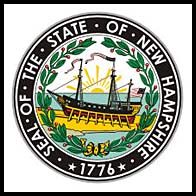 NORTH CONWAY — They questioned each other's business experience and acumen, tossed in some jabs about politicking and pandering, but the men who would be New Hampshire's next governor were united during a Halloween debate in their appreciation of "The Walking Dead."
The popular cable TV series about zombies was one of several things that Democratic District 2 Executive Councilor Colin Van Ostern and Republican District 3 Executive Councilor Chris Sununu did agree on during a debate at the North Conway Grand Hotel that was sponsored by the Mount Washington Valley Economic Council.
Early in the nearly 90-minute debate, Sununu and Van Ostern spoke over each other, prompting forum moderator George Epstein — who is town moderator in nearby Madison — to let the gubernatorial candidates know in a humorous way that they were outclassed.
Compared to a Madison Town Meeting, "You guys are a piece of cake," Epstein told the candidates.
Sununu said running for governor is the equivalent of presenting a job application. Voters, said Sununu, can see that for the past 15 years he has worked as an environmental engineer as well as for his family's company, which owns the Waterville Valley Resort.
Van Ostern — who has called into question Sununu's business acumen — spent a decade as a "political operative," Sununu said.
Sununu's comment didn't draw a response from Van Ostern, who in his concluding remarks stressed his bipartisanship, saying he never attacks good ideas, including those that come from Republicans. Van Ostern invoked former Democratic Gov. John Lynch's approach to governing, he said, which he described as watching out for the "bottom line" and for people at the same time.
Van Ostern didn't mention sitting Democratic Gov. Maggie Hassan — who is running against incumbent Republican U.S. Sen. Kelly Ayotte — but Sununu did, citing Hassan's legacy of non-achievement and asserting Van Ostern would do no better if elected.
Sununu said Van Ostern is the candidate of big government and a serial opponent of local control, including Medicaid expansion, charter schools or the Affordable Care Act.
Sununu said he is open to continuing Medicaid expansion for a limited period, but drew a sharp line between his own position and that of his Democratic rival. Van Ostern wants to make Obamacare permanent, Sununu charged.
Van Ostern shot back that the expansion is an example of a bipartisan effort that allows Granite Staters to buy private insurance with federal dollars and that last year resulted in a significant decrease statewide in the number of emergency room visits.
Paraphrasing former President Bill Clinton, Sununu said Obamacare is "a crazy program that was killing small businesses."
Repealing the expansion of Medicaid would reduce the number of people who now have medical coverage, said Van Ostern, and the number of insurance providers to pick from.
The candidates agreed on the need to do more for persons suffering from mental illness and substance abuse; to give emergency financial aid to dairy farmers hurt by the ongoing drought; to invest more money in the university system and on highway and bridge infrastructure; and to support Planned Parenthood. They split on increased passenger rail service, with Van Ostern in favor and Sununu opposed.
Both candidates agreed that the climate is getting warmer, with Sununu saying human beings are playing a role in it that should continue to be studied.
Van Ostern pointed out that as an executive councilor, Sununu has consistently voted against solar energy projects and that his views on energy were shaped by fossil fuel producers and large electric companies such as Eversource, which has filed an application with the NH Site Evaluation Committee to bring hydroelectricity from Canada through New Hampshire and then into the New England power grid.
The Northern Pass transmission project should "get done," said Sununu, because it would cut electric rates in New Hampshire while allowing the state to also purchase electricity at a discount. Northern Pass has to be "done right," said Sununu, adding that maybe "more of it can get buried" than just the 60 miles of the proposed 192-mile route in the state.
Van Ostern rejected Sununu's assertion that the Northern Pass wasn't costing taxpayers or ratepayers, saying it would depress property values and hurt tourism.
Story courtesy of unionleader.com
http://www.unionleader.com/voters-first-Gubernatorial-candidates-spar-at-debate-but-agree-on-Walking-Dead-10312016