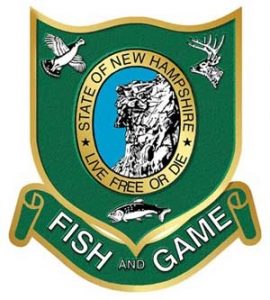 Lancaster, NH – Conservation Officers were busy in the North Country this weekend with the large amount of snowmobiles present on the trail system. With patrols out in Pittsburg and surrounding towns, many incidents were investigated including a high-speed pursuit and accident.
Late Saturday afternoon, Conservation Officer Sgt. Mark Ober and Conservation Officer Eric Fluette were patrolling on Newell Brook Road in Millsfield when they detected a speeding violation and initiated a stop with a snowmobile. The snowmobile being operated by, Scott Brooks, 55, of Littleton failed to stop and began operating at dangerous speeds. A pursuit ensued through a variety of terrain over the course of approximately 14 miles. It began at the southern end of Millsfield and ended at the northern end on the Baxter Trail, when Brooks pulled over at an intersection.
Courtesy Photo -Scott Brooks' Snowmobile being towed after he was arrested for allegedly leading Conservation Officers on a high-speed pursuit.

Brooks was subsequently arrested and later transported by State Police from the nearby trailhead parking lot to Colebrook Police Department. His snowmobile was towed from the trailhead and impounded. Brooks was charged with a misdemeanor for failing to stop for a Conservation Officer and also with violations of unreasonable speed and operating to endanger. Brooks was released on personal recognizance bail and will be brought before the Colebrook District Court.
Courtesy Photo – The Snowmobiles allegedly used during the incident involving a high-speed pursuit with Conservation Officers.


During this same incident the snowmobile following Brooks prior to the pursuit was also speeding, but pulled over after the other Conservation Officer initiated a stop with him. Clay Chace, 52, of Monroe claimed to have no knowledge on who the person he was following was, when questioned by the Conservation Officer. Chace was subsequently issued a violation summons for speed. He was later charged with a misdemeanor for obstructing a Conservation Officer when the Conservation Officer's confirmed that the two were riding companions. He also will be brought before the Colebrook District Court.
Courtesy Photo – One of the Snowmobiles involved in the two snowmobile accident in Pittsburg.

Then on Sunday Conservation Officers responded to a snowmobile crash involving two machines in the town of Pittsburg At approximately 12:00 PM. According to authorities a snowmobile being operated by Hunter Judd, 25, of Concord was traveling north on trail 143 near Stub Hill when he was almost struck by an oncoming snowmobile. The operator signaled more riders were behind him as he narrowly missed Judd. After pulling to the far right of the trail, another snowmobile came down the trail, lost control and struck Judd, causing significant damage to both snowmobiles. The operator of the snowmobile traveling south, Jeffrey Marceau, 50, of Gilford, was uninjured. Judd sustained minor injuries in the crash.
Judd was able to drive his snowmobile out, while Marceau's machine had to be towed out, as it was inoperable. Once at a residence Judd was able to notify officials of the crash. The Pittsburg Police Department and Pittsburg Fire Department responded and assisted with the incident. No one was transported by ambulance for further treatment.
The accident remains under investigation, however officials believe speed was a contributing factor in the crash. Fish and Game officials would like to remind snowmobilers to use both hands to control their snowmobiles at all times and not to inform oncoming riders of how many other snowmobiles are behind them. Operation of snowmobiles should always be cautious as you never who or what might be around the next corner. Furthermore, when meeting oncoming traffic, operators of snowmobiles are required to reasonably turn to the right and reduce speed to avoid collision.
Over the weekend there were approximately 45 summonses issued. Although there were a variety of violations, the majority of them were speeding and modified exhaust related.