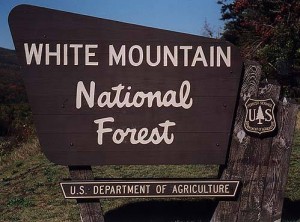 Fish and Game Conservation Officers were alerted to an injured hiker at the junction of Six Husbands Trail and Great Gulf Trail in Thompson & Meserves Purchase Sunday afternoon around 1:30p.m. A summer employee of AMC out for a hike came upon the injured man around 12:00 p.m. but due to the remote location and lack of cell phone reception, the AMC member hiked out over 4½ miles to call for help and proceeded to hike back in to assist in the rescue.
Officials say that 40 year-old Michael Wainer of Stoneham, MA was hiking on the Six Husbands Trail when a log he was standing on broke while assisting his wife cross a river sending both into the water. Mr. Wainer and his wife were able to get out of the river, but he injured his leg in the process. He attempted to hike himself out, but due to the injury was unable to go very far. He waited several hours before rescuers could reach him.
Rescue efforts were initiated and volunteers from AMC, AVSAR (Androscoggin Valley Search and Rescue) Mt. Washington State Park, and a USFS LEO responded totaling over 25 people. Most of the volunteers were shuttled up the Mt. Washington Auto Road where they accessed the injured hiker by hiking down the Chandler Brook Trail to the Great Gulf Trail. But several of the initial responders from AMC hiked the total 4 ½ miles in from the Great Gulf trailhead.
The Rescue personnel carried the injured party in a rescue litter down the Great Gulf Trail for over 7 hours before arriving at a point where an ATV was able to drive him out the remaining 2 ½ miles arriving at the awaiting ambulance just before 1:00a.m. Mr. Wainer was transported to Androscoggin Valley Hospital in Berlin by Gorham Ambulance for treatment of his injury.