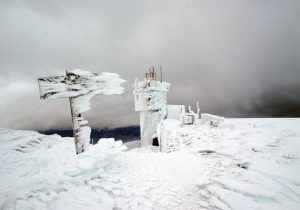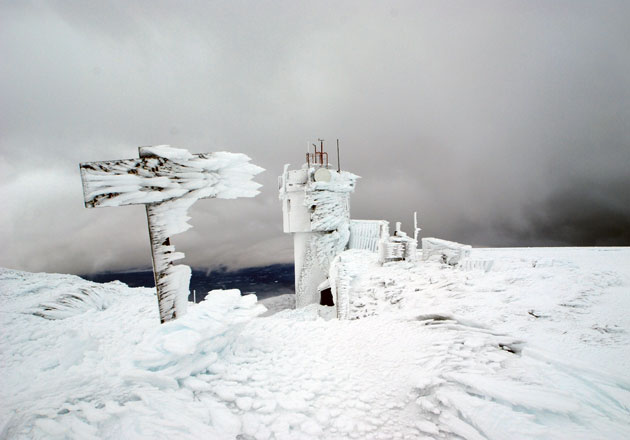 North Conway, NH – January 16, 2017— Mount Washington Observatory announced the start of a new pilot program for educators that it will roll out this winter.  Arctic Wednesdays will introduce teachers and ultimately their students to the Arctic landscape of Mount Washington, often dubbed the "Home of the World's Worst Weather."
"We have been talking with teachers in the region to identify how we can work more collaboratively and take a more active role in supporting their STEM efforts," said Director of Education Brian Fitzgerald. "Teachers and their students will have the opportunity to learn about how weather and climate is measured in one of the most unique weather stations on the planet."
On select Wednesdays this winter, two area science teachers, from different schools and grade levels, will join Observatory staff as they make their weekly commute up the Mount Washington Auto Road via snowcat. These teachers will learn about the work of the Observatory, shadow observers, take their own weather measurements and ultimately videoconference back to their classroom to share their experience.
The education staff at Mount Washington Observatory will serve as academic advisors for teachers, helping to bring the extremes of Mount Washington into their lessons on weather and climate. During each trip, teachers will utilize a Kestrel 5000 Environmental Meter (donated by Kestrel Weather Meters) to gather data on 11 different environmental parameters, including temperature, humidity, wind speed and barometric pressure.
Program cost was kept to a minimum due to the generosity of supporting partners and donors.  Presenting sponsors include a long- time friend and member of the Observatory and Kestrel Weather Meters with support from White Mountain Oil and Propane and the Kiwanis Club of Mount Washington Valley. As a pilot program and due to limited space for this year's Arctic Wednesdays, seats have already been allocated to local educators who have been working with the Observatory's education department.
For more information and future opportunities to sponsor or participate, contact Director of Education Brian Fitzgerald at (603)356-2137 x 225 or [email protected]
About Mount Washington Observatory
Mount Washington Observatory is a private, nonprofit, member-supported institution with a mission to advance understanding of the natural systems that create the Earth's weather and climate. Since 1932, the Observatory has been monitoring the elements from its weather station on the summit of Mount Washington, using this unique site for scientific research and educational outreach. For more information, to become a member or to make a donation, call (800) 706-0432 or visit MountWashington.org.

Written by Krissy Fraser, Director of Events & Marketing [email protected]