Help celebrate Ice Coffee Day with your local Dunkin Donuts!
Wednesday, May 20th is Ice Coffee Day! One dollar from EVERY Dunkin Donuts Ice Coffee sold that day will be donated to the Barbara Bush Children's Hospital, located in Portland, Maine. The money donated this day will help improve the health and well-being of children and families in our area!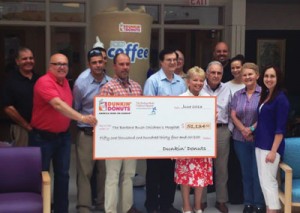 To help celebrate, 93.5 WMWV will be on location at the North Conway store on Rt 16 from 10am-11am, and in Conway on West Maine Street from 1pm-2pm! Stop in, grab an Ice Coffee and we'll hook you up with some WMWV swag!
About The Barbara Bush Children's Hospital:
From well-child visits to specialized medical and surgical treatment of complex, life-threatening illnesses and injuries, we offer comprehensive, family-centered care from an exceptional team of doctors, nurses and other medical professionals. And it's all right here, conveniently close to home.
With the most pediatric specialists in Maine, The Barbara Bush Children's Hospital offers a full range of pediatric medical and surgical care. U.S. News & World Report has ranked The Barbara Bush Children's Hospital at Maine Medical Center among the top hospitals in the country for Pediatric Diabetes & Endocrinology care in the new 2014-15 Best Children's Hospitals rankings.
For more information on the Barbara Bush Children's Hospital visit www.bbch.org.