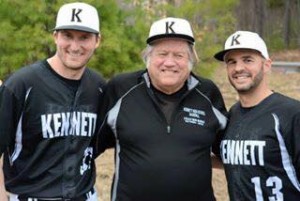 (photo Courtesy of the Kennett Eagles Baseball Facebook page)
Conway, NH – The Mount Washington Valley lost a Baseball legend and pillar of the community this weekend. Former Kennett high School Baseball Coach Bob Burns passed away Friday morning.
Coach Burns was one of only 3 coaches to win over 500 games in New Hampshire. He led the Eagles to 513 wins and two state titles, in 1974 and 1995, during his career with Kennett from 1971 to 2012.
A post on the Kennett Eagles Facebook page noted that "More important than the wins is the impact on the lives of the hundreds of young men who had the privilege of playing for Coach. He was a mentor, a role model and a leader in our community."
Calling hours will be Tomorrow, January 5th, from 4pm-7 pm at Furber and White Funeral Home. There will also be a Memorial Service at the Kennett High School Auditorium on Wednesday, January 6th at 5pm.