Kennett High School Football 2016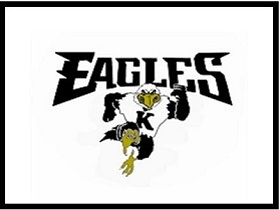 WMWV is proud to be the official radio broadcast partner for Kennett High School football! 
Tune in live each and every game with James Anderson and his broadcast team, as they take you through all regular season and playoff games! And don't forget, you can also listen anywhere in the world via our streaming playing, available right on this website, or any mobile device!
The Eagles, (7-1) during the 2015 regular season, get a little younger throughout the roster, but are prepared to turn in another great campaign in the newly formed Division II. New signal caller, Brett Miller, back Tanner Brown, receiver Pat Cullen and the multi-faceted, Devon Oullette will lead the traditionally high powered offense.
2016 Schedule

Friday         9/2            GILFORD – BELMONT     7:00 pm  – W 43-22
Saturday    9/10           @ Plymouth                              1:30 pm – L 6-35
Friday         9/16           @ Merrimack Valley                6:00pm – W 33-20
Friday         9/23           ST. THOMAS                        7:00 pm – W 14-9
Friday         9/30          @ Lebanon                                7:00 pm – L 20-27
Friday         10/7           BOW                                          7:00 pm – L 7-26
Friday         10/14         LACONIA                                7:00 pm – L 7-14
Friday         10/21         @ Hanover                                 7:00pm – L 0 -10
Friday         10/28        @ Kingswood                             7:00pm – W 42-0
Click here for the latest NH State Division II Standings    
Eagles football on 93.5fm WMWV is brought to you by these generous sponsors:
North Country Dental
Top Furniture
Leone, McDonnell & Roberts
Granite State Glass
Saco River Medical Group
Silver Lake Hardware
Diesel Works
Mountain Center Physical Therapy
Zeb's Country Store
Yankee Smokehouse
House to Home, by Chick Lumber
Aroma Joes, North Conway
White Mountains Community College
Lucy Hardware & Rental Center
Lakeside Physical Therapy
Valladeras Repair