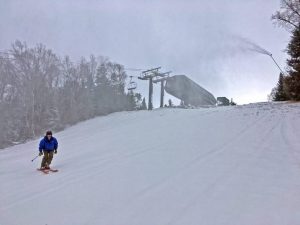 The snow has been flying at Bretton Woods and Wildcat Mountain, with both alpine ski resorts running their snow guns since Monday.
Others in the White Mountains are looking to do the same in the race to open the new season.
At Bretton Woods, the largest ski area in New Hampshire, Alexa Bernotavicz, assistant director of ski operations, got to make some turns Tuesday on what the snowmaking team began laying down Monday afternoon.
"Ski season will be here before you know it," said Jennifer Huntoon, assistant marketing director at Mount Washington Resort, which includes the Omni Mount Washington Hotel and Bretton Woods.
Last year, according to Jessyca Keeler, executive director of Ski NH, the industry's trade association, skier visits at the 16-member alpine resorts were down more than 25 percent compared to both the year before and the 10-year average.
Wildcat, in a news release Tuesday, said the impending start of its 59th winter season was made possible by recent cold temperatures "and even some measurable natural snow mostly above 3,000 feet." Snow was made Monday on the Pole Cat and Upper Lynx trails.
"Our goals continue to focus on offering a superior top-to-bottom skiing experience on opening day," which could be sometime in early November, said Brian Heon, Wildcat's general manager.
At Loon Mountain in Lincoln, Greg Kwasnik said snowmaking will start after Nov. 1 and will continue "as temperatures allow." Loon has no "firm opening date," Kwasnik said, but it has typically opened in mid-November.
While New Hampshire ski resorts were making snow Tuesday, Killington Resort in Vermont was allowing select guests to ski on two trails, with plans to open to the general public today.
Keeler is hopeful that all Ski NH members will have a successful season.
"This," she said, "is already better than last year."
Story and photo courtesy NewHampshire.com
http://www.newhampshire.com/tourism/Bretton-Woods-and-Wildcat-making-snow-getting-ready-to-open-soon-10262016