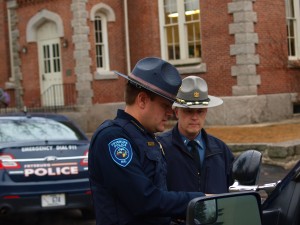 Fryeburg, ME – There was a lock down at Fryeburg Academy this afternoon. According Fryeburg Police they responded to a lockout procedure activated by the staff at around 10:30am.
Students were locked-in place for approximately 2 hours while police investigated a hand written threat of a gun reported by a student on a bathroom stall. Fryeburg Police were assisted by Maine State Police, Conway Police, Fryeburg Fire, and Fryeburg Rescue to close nearby streets while officers investigated the incident, interviewed students, and forensically processed the scene.
After 2 hours the school was re-opened for normal school activities once investigators determined the threat to be low level and non-credible.
Fryeburg Police Chief Joshua Potvin said "We take these incidents very seriously and fortunately my staff practices lockout/lockdown drills with our schools on a regular basis. Staff, students, and responders acted swiftly and brought this incident to a peaceful conclusion."