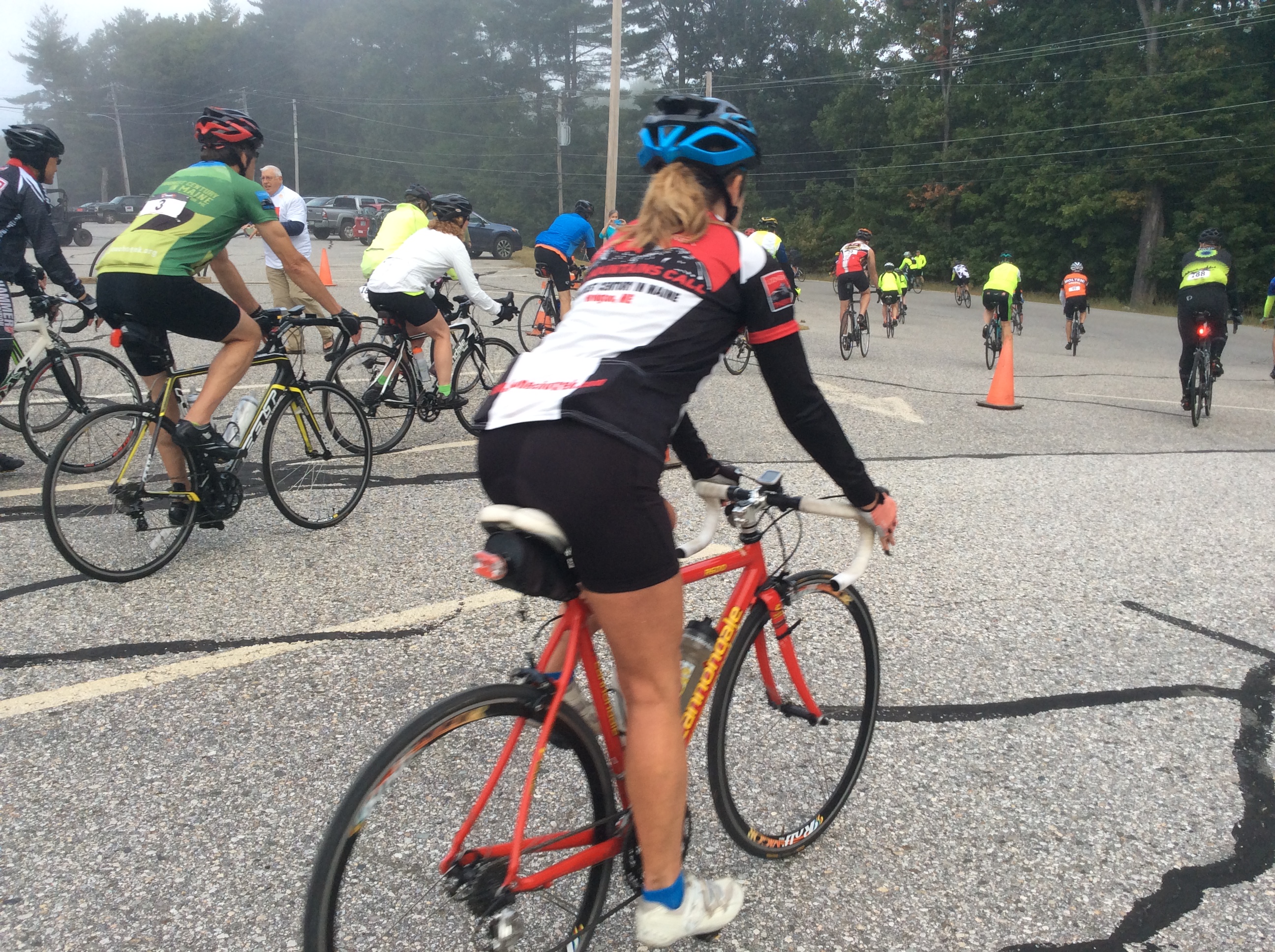 (Bridgton, Maine – September 19, 2016)  A cool, foggy early fall morning turned into a day perfect for hiking and cycling for the nearly 250 enthusiastic Trekkers who participated in the 16th annual Loon Echo Trek held on Saturday, Sept. 17 at Shawnee Peak Ski Area in Bridgton to benefit Loon Echo Land Trust.
Organizers and Trekkers alike were thrilled with the sunny skies and comfortable temperatures for the organization's primary fundraising event of the year.  "The weather was perfect for today's Trek," said Event Coordinator, Tracy Burk. "Once the fog burned off, hikers enjoyed spectacular views while traversing Pleasant Mountain and bikers enjoyed views along the scenic bicycle routes."
Loon Echo Land Trust currently protects over 2,000 acres of land on Pleasant Mountain, land that hikers were able to enjoy during Saturday's Trek. The Trek continues to be a great way for people to support land conservation in the Lakes Region of Southern Maine.
Nearly 200 cyclists were registered for the Trek, and chose between 25, 50, 80 and 100 mile routes through some of Maine's most beautiful scenery.  Century and 80 mile riders had a challenging ride through Evans Notch with a 1,200 foot vertical descent. Cyclists raved about the course and loved riding on all the back roads where the traffic was minimal. They enjoyed the well-stocked rest stops, the helpful and friendly volunteers, and the all new post-Trek taco bar, massages and Allagash beer, free to all Trekkers.
Over sixty hikers participated in either the 4.5 or 6 mile hike trek over Pleasant Mountain and Loon Echo's conservation land. Hikers were treated to three rest stops along the way, each stocked with gourmet treats.
Nearly a dozen hearty people participated in the third year of the Hike and Bike Combo, which includes completing either the 4.5 or 6 mile hike, followed by the 25 or 50 mile bike ride.
Over $60,000 was raised from the event, including entry fees, pledges raised by participants, and business cash and in-kind sponsorships. Top individual fundraisers were Jill Rogers (Byfield, MA) who raised $1,750 and Wendy Newcomb (Sebago, ME) who brought in $800. They were rewarded their choice of a season pass to Shawnee Peak Ski Area, a season pass to Five Fields Farm, a weekend getaway at Migis Lodge, a weekend stay at Camp Wigwam's Alumni House, or an overnight retreat at The Oxford House Inn.
Proceeds help Loon Echo Land Trust protect land in the northern Sebago Lake region to conserve its natural resources and character for current and future generations.  Currently, Loon Echo protects over 6,600 acres of land and 28 miles of trails open for public use.
The date for the 17th Annual Loon Echo Trek has already been set and will take place on Saturday, September 16, 2017. For information, visit LELT.org or call 207-647-4352.
~ Story and Photos courtesy of Loon Echo Land Trust Event Coordinator Tracy Burk.