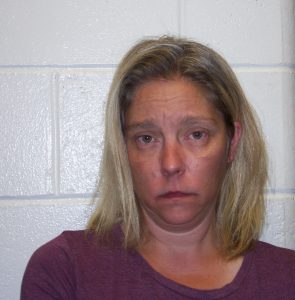 Fryeburg, ME – A Woman was arrested Saturday after leading police on a high-speed chase through Fryeburg. According to Authorities at approximately 10:30 Saturday night an Officer pulled over 40 year old Roberta I. Blood-Kemp of Lovell Maine. As the Officer was placing Blood-Kemp under arrested for suspicion of operating under the influence an altercation occurred.
40-year-old Roberta I. Blood-Kemp; Photo Courtesy of Fryeburg Police

The officer used his taser on the suspect however due to poor probe contact Blood-Kemp was able to escape custody and fled in her vehicle at speeds of over 80 miles per hour. Officers from State Police and Bridgton Police responded to the area to assist. Blood-Kemp tried eluding the officer on Frog Alley Road before fleeing to her residence on Main Street in Lovell where she was taken into custody.
She was then taken to the Oxford County Jail where she was held on $1,000.00 cash bail. Blood-Kemp is scheduled to appear in Bridgton District Court September 15th for arraignment.