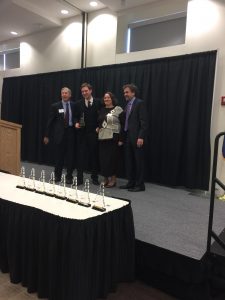 North Conway, NH – A member of the Mount Washington Valley Radio family was awarded Wednesday at the New Hampshire Scholars Breakfast of Champions. Our very own Lucia Seavey was awarded for her assistance in hosting numerous job shadows and internships for interlaces high school.
Lucia said "Mount Washington radio really and truly loves working with today's youth to encourage interest in music and radio."
According to their website the New Hampshire Scholars Initiative is an effort by area business and school volunteers to encourage and motivate all high school students to complete a defined, rigorous academic course of study that prepares them for successful transition to college or university coursework or vocational and technical training necessary to enter today's competitive job market.
The Breakfast of Champions is a meeting that recognizes businesses, community, and educational leaders who demonstrate a commitment to advancing partnerships dedicated to student success.