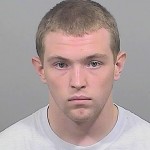 Dylan Michael McPhee, photo courtesy CCSO
Police in Maine say they are searching for three suspects in their 20s after two home invasions in Casco early Tuesday morning.
Capt. Don Goulet of the Cumberland County Sheriff's office says 20-year-old Dylan Michael McPhee, another man with a dark complexion and a young white woman are considered armed and dangerous.
Goulet says McPhee was identified by one of the victims after he and the others allegedly forced their way into two separate homes – on one Brown Rd. And one on New Rd. – shortly after 3 a.m. Tuesday.
Goulet says the two men went into the homes after their female accomplice knocked on the homeowner's doors and said she needed help.
No one was hurt at the first incident at Brown Rd. One person from the home on New Rd. was taken to Bridgton Hospital with non-life threatening injuries after he and the other homeowner were pistol whipped.
Goulet says he doesn't know what kind of vehicle the suspects are in or where they went.  Anyone who sees them is asked to call 911.
Anyone who sees anything suspicious – or someone knocking on their door they don't know – is asked to call their local police department.