NORTH CONWAY, NH – The public is invited to a ribbon cutting and open house today at 5:30pm at Memorial Hospital main entrance to unveil the newly renovated practice space for Primary Care and Oncology & Chemotherapy. The 2-year $3.5 million project was completed this summer and was made possible in part through the generosity of donors, community members and charitable foundations.
President & CEO Scott McKinnon will be joined by Mount Washington Valley Chamber of Commerce Executive Director Janice Crawford along with hospital staff, management and board members to cut the ribbon marking the completion of the biggest renovation at the North Conway hospital in years.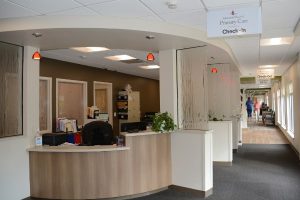 In addition to the ribbon cutting, special recognition will be given to donors who helped make the project possible. These donors include Roger Clapp, long-time hospital board member who passed away in 2013. Clapp arranged a planned gift in order to support facilities at the hospital. Special recognition will also be given to Dr. Miles E. Waltz, a beloved community doctor and for whom the hospital's Medical Office Building will now be dedicated. The donation was made possible by a gift from Dr. Waltz's children and their families, Mark Waltz, Ned Waltz and Martha Waltz Di Domenico. Appreciation will also be given to the Oliver S. and Jeannie R. Donaldson Charitable Trust which supported the Oncology improvements through a grant.
In addition to the Ribbon Cutting, the public will be invited to a staff-led tour of each of the two renovated spaces from Primary Care and from Oncology & Chemotherapy. Tours will be followed by light refreshments in the newly revamped Primary Care reception area.
For more information, call Community Relations at 603-356-5461
603-356-5461 ext. 2264 or visit them online at www.memorialhospitalnh.org.