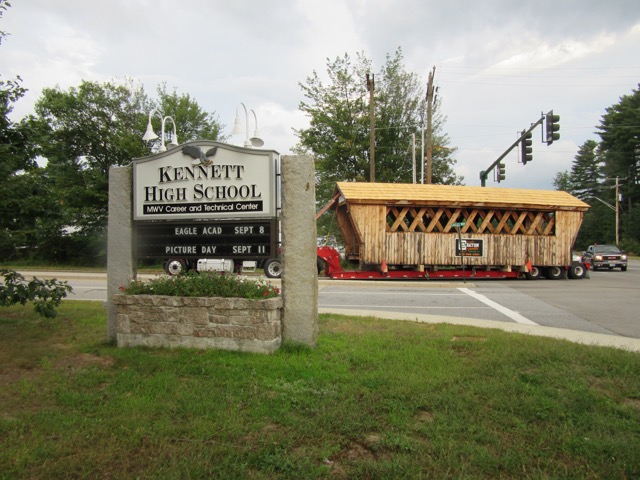 Stoney Morrell Memorial Bridge making its way up Eagle Way
(Photo Courtesy of Gary MacDonald-Gary Millen Foundation Chair)
Conway, NH -Drivers in the Mount Washington Valley got quite a sight Tuesday (9/8/15) morning as a 36-foot-covered bridged headed down through the North Conway Village. The Gary Millen Foundation is going to be bridging the gap of a gully at the school that currently limits spectator access to several playing fields. The  bridge donated by Story Land headed down with a police escort around 6 Tuesday morning and made it safely to it's destination at the end of Eagle Way.
The Bridge was financed by Story Land and Heritage NH owner Stoney Morrell and was on display at the Heritage NH amusement park. The covered bridge was authentically built by Arnold Graton who is considered one of the nations foremost covered bridge craftsmen. The bridge was put on display at the 1999 Smithsonian Folklife Festival in Washington D.C. and at the 2000 Celebrate NH Festival.
The bridge, which will be named the Stoney Morrell Memorial Covered Bridge, will be officially put into place by a team of four Oxen. The final bridge placement will be on Thursday the 17th. With the process beginning at 8:30am followed by a presentation and dedication of the bridge at 1pm.