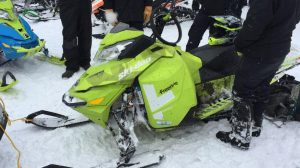 Photo Courtesy of NH Fish and Game -Snowmobilers during Tri-State Snowmobile Weekend.
Pittsburg, NH – Officials say a 24-year-old snowmobiler who went missing in New Hampshire has been found safe in Maine after he spent the night in the woods. John Bessette was last seen around noon Saturday in Pittsburg, New Hampshire, riding a green snowmobile at the East Inlet parking lot.
Fish and game officers in New Hampshire and Maine combed areas of New Hampshire and Maine looking for him. He was found near Maine's Rump Mountain. Bessette was uninjured. He kept warm overnight by running the snowmobile.
Saturday and Sunday were part of the Tri-State Snowmobile Weekend, which allows snowmobiles legally registered in Vermont, New Hampshire or Maine to operate in the other states.
Story Courtesy of The Associated Press