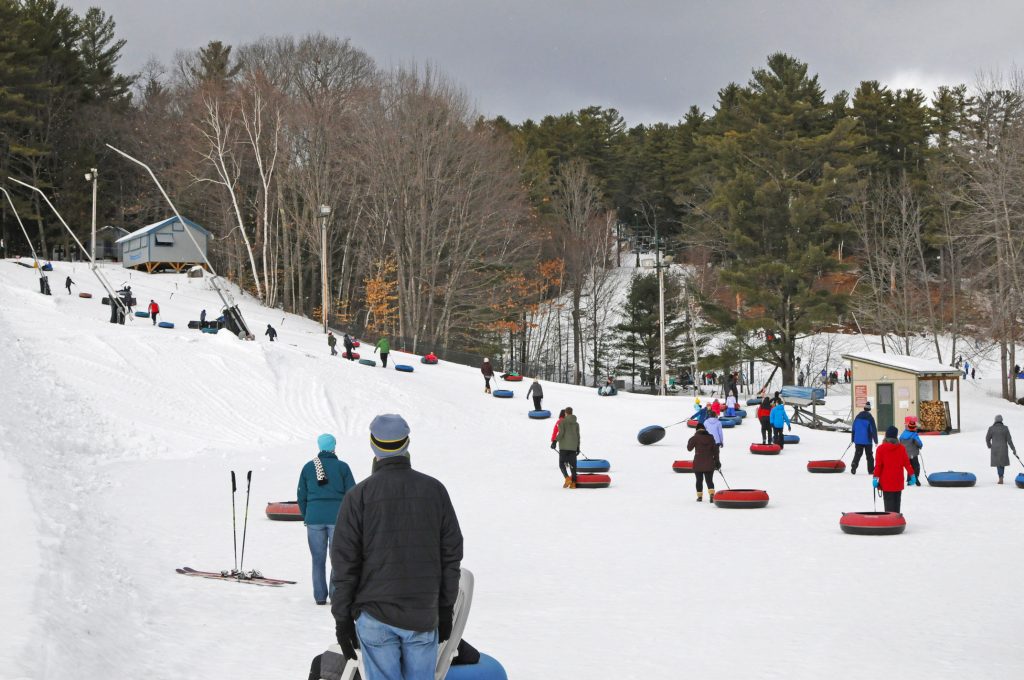 The ski resorts, tubing hills, and adventure parks and businesses throughout Mt Washington Valley were packed during the holiday week.  Shown here, King Pine's tubing hill was jamming every day during the holiday week.  King Pine photo. 
North Conway, NH – Businesses throughout Mt Washington Valley, NH celebrated more than the arrival of 2017 this holiday season, according to an informal survey distributed to members of the Mt Washington Valley Chamber of Commerce.  By all accounts, Christmas week and New Year's Eve weekend 2016 were among the most successful recorded by businesses in the Valley in a long time.  Last year, a dearth of snow and warm temps translated to less traffic in the Valley. Yet this holiday season, the December 29th snow storm, described as a "Bombogenesis", delivered just the weather bomb needed by the Valley's ski resorts and XC Centers to start 2017 out right and expand terrain significantly.
"If success can be measured by the smiles on Chamber members' faces, then it's clear that we had a very successful holiday week in Mt Washington Valley," observed Janice Crawford, Executive Director of the Mt Washington Valley Chamber of Commerce.  "We're delighted that we go into 2017 with a white winter landscape offering skiers, riders, snowmobilers, skaters, climbers, sleighriders, dogsledders and snowshoers all the terrain they need for exploring our scenic corner of the White Mountains," finished Crawford.
The ski resorts were quick and enthusiastic when responding to the chamber's survey.  John D. Lowell, President of Attitash Mountain Resort and Wildcat Mountain, shared, "There is no comparison between last year and this year. Last year Christmas week was a real challenge for all resorts in the Northeast. This year was phenomenal. The 20 – 26 inches of snow we received at Attitash and Wildcat right before the weekend caused an explosion of interest. Attitash recorded its busiest day in history and Wildcat was overflowing with smiling faces. We plowed additional parking areas and they filled up as soon as we pulled out."
When asked about the New Year's Eve weekend, Lowell responded, "New Year's Eve weekend was a blockbuster. Monday, being a holiday, was a real bonus to the end of a historic and very successful week. Obviously, the big news was the bombogenesis, a unique weather event that caused the low pressure to became a "weather bomb" dumping large amounts of snow on the Mount Washington Valley and then clearing out in time for the weekend. Who could ask for more?"
Becca Deschenes, Director of Marketing for Cranmore Mountain Resort, told the chamber, "We had quite the vacation week, having two record breaking days, one being New Year's Eve (busiest days since 2007/08 season).  We received 14-18 inches of fresh snow from Thursday nights storm, allowing us to open up more trails and glades too."
Thomas Prindle, Director of Marketing for King Pine Ski Area and Purity Spring Resort, responded to the chamber's survey with good news. Prindle said, "Visit numbers at King Pine Ski Area for the Christmas week and New Year's Eve weekend, including the Monday, January 2 holiday, were up significantly over last year. That's understandable of course considering how good conditions are this season thanks to great snowmaking temps and natural snow, and King Pine being first in New Hampshire to be 100-percent open for the holiday week." Prindle went on to say, "This season's holiday week period however also surpassed total lift ticket and season passholder numbers for the previous five years. Bob Hoyt, President of King Pine Ski Area and Hoyt Family businesses, conveyed that this was among the busiest holiday weeks he can recall."
Peter Gagne, owner of Northern Extremes Snowmobiling, told the chamber that the White Mountain Trail Club groomed more hours last week alone than throughout all last winter.  "We had an excellent vacation week. Our Bretton Woods office was open more days and did more revenue than all of all last year combined," shared Gagne, exclaiming that the season is off to a strong start.
Terry MacGillivray of Northeast Snowmobile and ATV Rentals was also thrilled with the increase in business this holiday week over last year.  He shared, "We were open at all three of our locations with great riding compared to being closed last year during the same time period.  On Saturday, we had a record breaking day with 200 phone calls and 196 rentals.  There is no better advertising then Mother Nature."
Lodging properties also responded with enthusiasm to the Chamber's questions about Christmas and New Year's holiday sales.  Charlie Mallar at the 1785 Inn confirmed that travelers were anxious about spending the holiday week in the Valley even before the storm hit. "We were sold out in advance for New Year's weekend. The Monday holiday probably helped some but the great natural snow conditions was the major factor. Even though our cross country trails were open last year, there was so little snow that most people assumed that they were not even open," shared Mallar.
Charlene Browne Rick Davis from the Farm by the River B&B With Stables concurred telling the chamber that they had far more bookings before the holiday week than in past years.  Additionally, the stables were busier than last year too, with more interest in sleigh rides given the colder temps and better conditions.
Christopher Bellis and Eddie Bennett, co-owners of the Cranmore Inn also felt the holiday week was successful, telling the chamber, "Revenue at the inn was up 31-percent over last year and room nights were up 20-percent", adding that the inn ended the year with 9-percent growth in revenue and room nights, despite a challenging winter last year. Bellis and Bennett conveyed that the increase in bookings can be attributed to better weather this winter season for skiing and outdoor activities compared to last year.
Donna Pearce, owner of the Admiral Peary Inn B&B told the chamber that the inn was swamped with guests for the first year ever from December 23 through January 1st.  Many chose to stay at this pet-friendly inn because they traveled to visit family in the area with their dogs.  All guests took advantage of the snow and skied, snowshoed and played in the snow.
John Lowell added to his comments about the successful weekend at Attitash and Wildcat, telling the chamber "The Attitash Grand Summit Hotel and Conference Center was sold out and the phones kept ringing all week."
Miriam Habert, co-owner of Bartlett Inn and Cottages concurred with fellow lodging colleagues saying their bookings were up over last year due to the great snow conditions this year for the holiday week, compared with cancellations last year due to lack of snow.
And not only did visitors to Mt Washington Valley ski and play, but they also dined. Bud Selmi from Margarita Grill told the chamber that sales were up 25-percent over last year for the Christmas week and that New Year's Eve weekend was up too.  Selmi attributed the great snow conditions to the increase in traffic compared to last year.
Christopher Bellis and Eddie Bennett, owners of Chef's Bistro shared that sales at the restaurant for the holiday week were even with last year.  They shared that last year it appeared that more people were dining in restaurants than this year because there were not as many outdoor activities available for holiday week, 2015.
On the retail side, Laura Tuveson, Assistant Director of Marketing & Events at Settlers Green and Settlers Crossing, told the chamber that reports from many stores were optimistic about a successful holiday season. "The holiday break was strong and we saw increased website visits from the New York and Boston markets, which generally correlates to store traffic," she commented, adding that December visits to the Settlers Green website exceeded last year, despite some weather challenges on key holiday shopping weekends.
Those responding to the survey are optimistic about the rest of the winter season.  Charlie Mallar told the chamber, "With the snow conditions we have and given how much guests enjoyed this weekend, we anticipate that this winter will be much stronger than last."  Christopher Bellis concurred saying, "Advance reservations at Cranmore Inn are good compared to last year (and on par with the year before).  Given the more temperate temperatures we're having and the snow on the ground we should hopefully have a strong season."  And John Lowell also shared the same sentiment telling the chamber, "Advanced reservations are very strong and interest is rising. There is a great deal of pent up demand after last year. The economy is strong, the election is over and people are planning winter vacations. It should be a very good year!"
To plan the ideal winter getaway in Mt Washington Valley, visit www.mtwashingtonvalley.org or call 1-800-DO-SEE-NH (800-367-3364).  To design a New Hampshire winter vacation, go to www.VisitNH.gov.
~ Written by Marti Mayne, PR Manager of Mt Washington Valley Chamber of Commerce