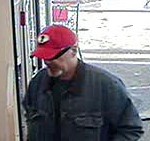 PHOTO COURTESY CONWAY P.D.
CONWAY POLICE HAVE RELEASED A PHOTO OF A MAN THEY'RE CALLING QUOTE "A PERSON OF INTEREST" AND ARE ASKING FOR THE PUBLIC'S HELP IN SOLVING A THANKSGIVING DAY ROBBERY IN NORTH CONWAY.
 LT. CHRIS PERLEY SAYS HIS OFFICERS RESPONDED TO THE RITE AID ON ROUTE 16 ABOUT 1:30 P.M. THURSDAY AFTER A REPORT OF A ROBBERY.
 THE SURVEILLANCE CAMERA PHOTO SHOWS A HEAVYSET BEARDED MAN WALKING INTO THE DRUG STORE.
THE PHOTO SHOW THE MAN – WHO POLICE ESTIMATE IS BETWEEN 40 AND 55 YEARS OLD – WEARING A RED BALL CAP, A DARK JEAN UTILITY JACKET, JEANS AND WHITE SNEAKERS. A STORE WORKER TOLD POLICE THE MAN PRESENTED A NOTE DEMANDING NARCOTICS.
 AFTER THE ROBBERY, THE SUSPECT RAN OUT TOWARD SETTLER'S GREEN OUTLET VILLAGE.
 A SEARCH FOR THE SUSPECT THAT INCLUDED A K-9 FROM NEW HAMPSHIRE STATE POLICE DID NOT FIND HIM BUT PERLEY SAYS EVIDENCE IN THE CASE WAS RECOVERED.
 THE CARROLL COUNTY SHERIFF'S OFFICE ALSO ASSISTED.
 ANYONE WITH INFORMATION ABOUT THE INCIDENT IS ASKED TO CALL POLICE AT (603) 356-5715.