Pittsfield, New Hampshire – Eversource has released a new proposal for the Northern Pass Project after listening to concerns from residents and a recent federal impact report. The Forward NH Plan includes significant changes to the project that looks to transport hydroelectric Canadian Power to southern New England markets.
A recent Environmental Impact Statement on the project conducted by the Federal Department of Energy said the mostly-overhead lines stretching over 187 miles, including through the White Mountains, ran the risk of hurting tourism, the environment and property values.
Bill Quinlan, President of Eversource Operations in New Hampshire said, "What we heard loud and clear was that the project must provide direct benefits, and must address concern over views, especially in the most treasured areas of our state. Our new plan provides New Hampshire with unparalleled opportunities, and addresses the issue of view shed in a balanced way, while maintaining the fundamental promise of Northern Pass to deliver clean, reliable, and economically priced power to New Hampshire and New England."
The new proposal would reduce the power to 1,000 megawatts from the original 1,200 in order to utilize new cable technology which allows for underground construction in roadways. The Forward NH Plan replaces overhead lines in and around the White Mountain National Forest, the Franconia Notch area, the Rocks Estate area, and along the Appalachian Trail with a new 52-mile section of underground line. This eliminates 400 towers and creates a total of 60 miles of underground line a huge change from the original 8 miles of underground line proposed.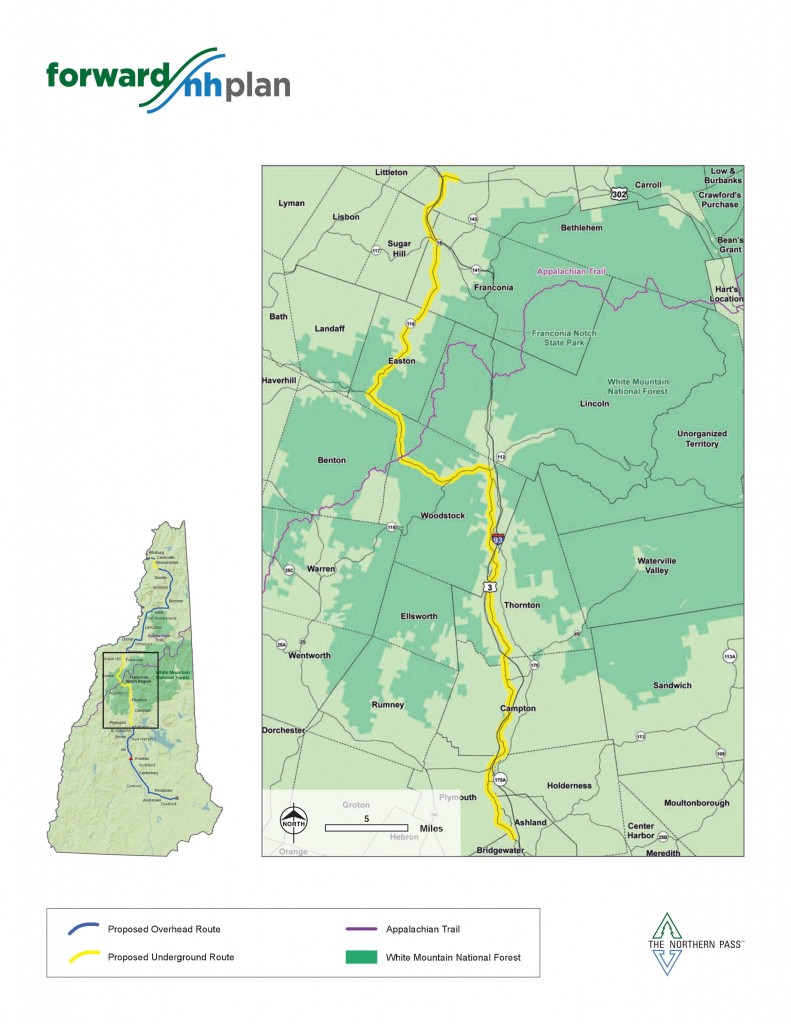 (Photo Courtesy of Northernpass.us)
The report also includes engineering and design changes that have been made to further address concerns citizens had about views, including lowering tower heights by an average of 5 to 10 feet and modifying tower designs.
The redesigned Northern Pass route also aims to minimize impacts highlighted by the D.O.E by using existing transmission corridors and public roadways. More than 80 percent of the route is now within these existing rights-of-way. The remaining portion of the route is located on property either purchased or leased from willing landowners.
The New Forward NH Plan also includes a Forward NH Fund consisting of $200 million dollars for use in supporting North Country opportunity initiatives in tourism, economic development, clean energy, and community investment.
Governor Maggie Hassan and Senator Jeane Shaheen released statements today with Gov. Hassan saying, "This route is an improvement over the previous proposal. By proposing to bury more than 60 miles of transmission lines, this new proposal would protect the historic and scenic views of the White Mountain National Forest and other important areas, which are part of to our identity as a people and integral to our high quality of life and vibrant tourism industry. By committing to hire New Hampshire workers first, to dedicate significant resources to support economic development efforts in impacted communities, and to upgrade the North Country's energy infrastructure, this proposal also provides tangible benefits to impacted communities as well as energy cost savings for New Hampshire businesses and residents."
Senator Jeane Shaheen said, "The determination of the public's interest extends far beyond energy needs and any full review must examine the impact on the citizens of New Hampshire and to the region's environment, property and tourism. I look forward to reviewing this latest proposal and I encourage Granite Staters to contribute during the Department of Energy's comment period with their views and concerns."
For more information about the new Forward NH Plan log on to www.northernpass.us.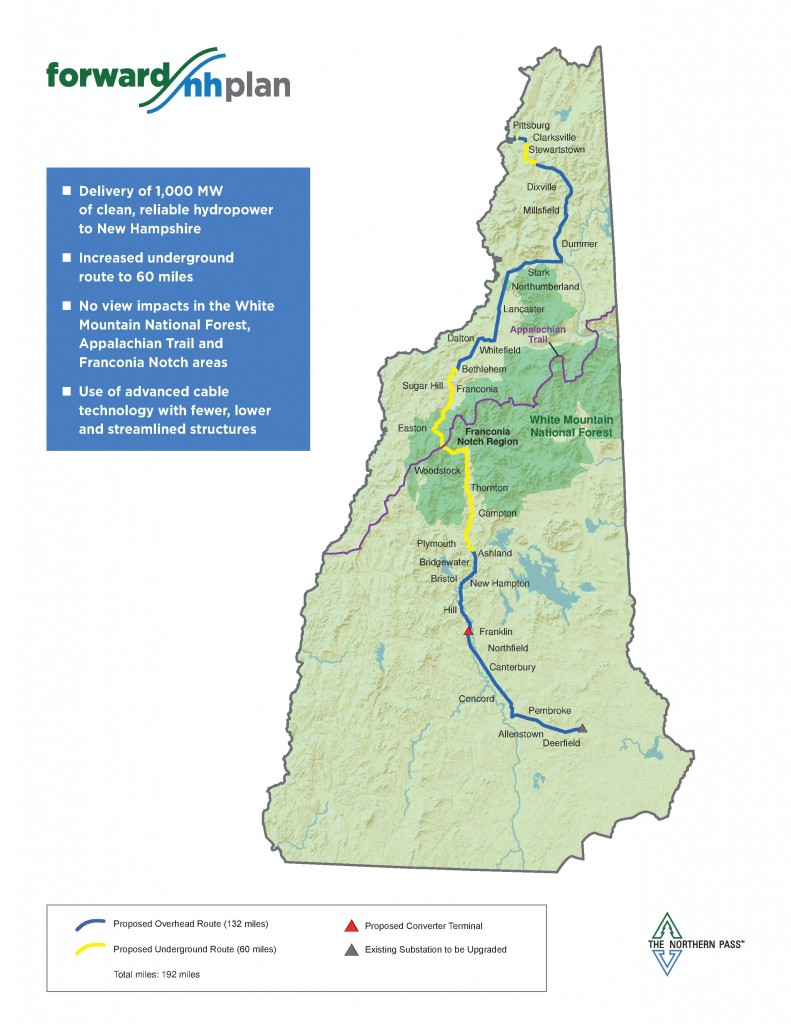 (Photo Courtesy of Northernpass.us)