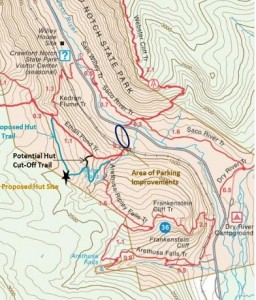 Crawford Notch N.H. – The Appalachian Mountain Club is looking to create a new hut in the Crawford Notch. The cabin would be located near the Arethusa-Ripley Falls Trail and Ethan Pond Trail that would be accessible by a new trail that connects the two.
The Cabin would offer full service meals from May to October, and winter self service with a caretaker from November to April. The proposed hut would accommodate 50 guests with room for staff and volunteers. This would include clean water, bathrooms, and energy supplied by renewable wind and solar power. There would also be space to sit and eat available to all park visitors, day or overnight, year round.
As part of the proposal a 30 to 50 car parking lot would be built off of the Ethan Pond Trail head off Route 302 to accommodate for more hikers and over-night guests. The nearest huts, each a days hike away to the proposed one, would be Zealand and Mizpah.
The Department of Resources and Economic Development Division of Parks and Recreation has opened a 30 day period for public comment that will end on Aug. 15. To check out the complete proposal Click Here
Comments can be emailed to [email protected]