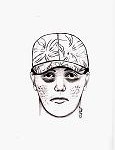 Police in Fryeburg, Maine have released a new sketch of the man suspected of attacking the owner of a dog grooming business in Fryeburg March 18, 2014.
Detective Sgt. Josh Potvin says he and Detective Dan Reed – a certified forensic sketch artist from the Sagadahoc County Sheriff's Office – spent several hours last week with the victim, Paulette Tuunanen, in an effort to provide the public with a more detailed description of her attacker.
The detectives asked Tuunanen to re-live the incident again and Potvin says she did a great job – although it was obviously traumatic for her – as she realized the importance of doing it.
Potvin says all leads in the case are being followed up on and investigators spent time last week searching roadsides and snowmobile trails near the scene of the crime at 169 Lovewell Pond Rd. where the suspect – a white man in his late 20s to lower 30s – allegedly entered the Creature Comforts pet grooming business late Tuesday morning, asked for help for a pregnant dog and then attacked Tuunanen after she tried to call a veterinarian for help.
Suffering stab wounds from cutting shears, Tuunanen was initially taken to Bridgton Hospital before being transferred to Maine Medical Center in Portland. She has since been released and is recovering at home.
The suspect is described as having rotten teeth and a severe case of acne, wearing a camouflage ball cap, a green canvas style barn coat and black winter gloves. He allegedly robbed the pet grooming business after assaulting Tuunanen and telling her he didn't want to go back to jail.
He faces charges of aggravated assault with a dangerous weapon, armed robbery and cruelty to animals.
Anyone with information about the suspect or the crime is asked to call Fryeburg Police at (207) 935-3323.
(or email Potvin at [email protected])