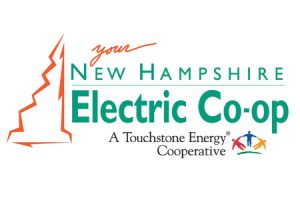 PLYMOUTH, NH – A $20,000 grant awarded by the NH Electric Co-op Foundation to the NH Food Bank will be dispersed to 33 food pantries across the state. The donation is being awarded in the form of an account credit at the NH Food Bank, where pantries can shop at prices that are often much lower than local grocery stores.
The NHEC Foundation has been a long-time supporter of the NH Food Bank.  Since it was formed in 2006, the Foundation has granted nearly $400,000 to the NH Food Bank to help New Hampshire residents in need.
"This year the Foundation Board of Trustees wanted to make an even greater impact to those directly served by New Hampshire Electric Co-op," said Board Chair Sharon Davis. "By giving each pantry an account credit, this allows them to purchase the items they really need at a much lower cost through the NH Food Bank."
Thirty-three food pantries that serve NHEC members in eight counties across the state will receive a portion of the grant, including:
Belknap County
Alton, Barnstead, Gilmanton. Meredith, Sanbornton, Tilton.
Carroll County
Conway, Moultonborough, North Conway, Wakefield, West Ossipee, Wolfeboro.
Coos County
Colebrook.
Grafton County
Campton, Canaan, Danbury, Lincoln, Littleton, North Haverhill, Plymouth, Warren.
Merrimack County
Franklin, New London.
Rockingham County
Deerfield, Derry, Hampstead, Nottingham, Raymond.
Strafford County
New Durham.
Sullivan County
Charlestown, Newport.
The NHEC Foundation is funded by more than 40,000 NHEC members who participate in the Round Up Program. The monthly electric bills of participating members are rounded up to the next dollar with the proceeds benefiting the Foundation.  The average contribution of Round Up members is six dollars a year. To join the Round Up Program, visit www.nhec.com/round-up-program.
NHEC is a member-owned electric distribution cooperative serving 84,000 homes and businesses in 115 New Hampshire communities.
Courtesy of Seth Wheeler, APR Communications Administrator for New Hampshire Electric Cooperative