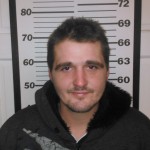 DARREN L. DREW
 PHOTO COURTESY FRYEBURG, MAINE P.D.
POLICE IN FRYEBURG, MAINE SAY A 27-YEAR-OLD ALBANY, NEW HAMPSHIRE MAN IS BEING HELD AT THE OXFORD COUNTY JAIL ON $5,000 CASH BAIL AFTER BEING CHARGED WITH SIX FELONIES IN CONNECTION WITH A BREAK-IN AT A HOME IN FRYEBURG.
SGT. JOSHUA POTVIN SAYS DARREN L. DREW WAS ARRESTED MONDAY AFTERNOON AFTER AN EXTENSIVE INTERSTATE INVESTIGATION FROM FRYEBURG TO BRIDTON AND INTO CONWAY, ALBANY AND CHATHAM, NEW HAMPSHIRE.
POLICE ALLEGE DREW WENT INTO THE UNOCCUPIED HOME OF THE SMITH FAMILY ON KIMBALL LAKE SHORES RD. IN FRYEBURG, STOLE A CREDIT CARD AND OTHER VALUABLES, AND THEN USED THE CARD AT SEVERAL LOCATIONS IN NEW HAMPSHIRE AND MAINE.
DREW IS CHARGED WITH ONE COUNT OF BURGLARY, ONE COUNT OF FORGERY AND FOUR COUNTS OF THEFT – ALL FELONIES.
POTVIN SAYS THE ARREST IS NOT CONNECTED WITH THE RECENT STRING OF BURGLARIES IN THE EAST FRYEBURG AREA, BUT HE SAYS HE'S "GLAD WE WERE ABLE TO SET THE VICTIMS IN THIS CASE AT EASE, WHICH FURTHER SUPPORTS OUR MISSION OF PROMOTING A SAFER ENVIRONMENT FOR OUR CITIZENS. IT WAS A GREAT COLLABORATIVE EFFORT BY THOSE INVOLVED IN BRINGING THIS FUGITIVE TO JUSTICE."