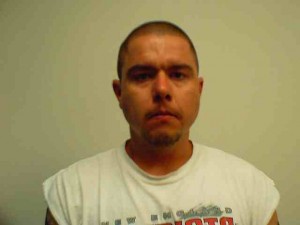 John F. Weeman, photo courtesy Conway P.D.
CONWAY POLICE SAY A 35-YEAR-OLD NORTH CONWAY MAN IS CHARGED WITH NUMEROUS FELONIES AFTER HE ALLEGEDLY RAPED AND KIDNAPPED A 21-YEAR-OLD WOMAN IN NORTH CONWAY.
LT. CHRIS PERLEY SAYS SHORTLY AFTER 5:15 P.M. TUESDAY OFFICERS RESPONDED TO A DEPOT STREET APARTMENT AFTER A REPORT OF DOMESTIC VIOLENCE.
AT THE APARTMENT, THE WOMAN TOLD POLICE SHE FOUND JOHN F. WEEMAN OF CROSS STREET HIDING IN HER BEDROOM. SHE FURTHER ALLEGED WEEMAN HAD HELD HER AGAINST HER WILL FOR ABOUT TWO HOURS.
PERLEY SAYS DURING THAT TIME, WEEMAN ALLEGEDLY PREVENTED THE VICTIM FROM CALLING POLICE OR LEAVING THE APARTMENT, SEXUALLY ASSAULTED HER AND THREATENED HER LIFE. ULTIMATELY, THE VICTIM WAS ABLE TO ESCAPE TO THE HOME OF A NEARBY RELATIVE.
POLICE MADE CONTACT WITH WEEMAN AND ARRESTED HIM. PERLEY SAYS DETECTIVES RECOVERED EVIDENCE AT THE SCENE AND ARE CONTINUING TO INVESTIGATE.
PERLEY SAYS WEEMAN WAS PROHIBITED FROM HAVING CONTACT WITH THE VICTIM BECAUSE OF A DOMESTIC VIOLENCE RESTRAINING ORDER ISSUED JANUARY 23, 2012. WEEMAN IS CURRENTLY ON PROBATION FOR CHARGES OF STALKING AND CRIMINAL MISCHIEF IN CONNECTION WITH INCIDENTS IN 2010.
CONWAY POLICE HAVE CHARGED WEEMAN WITH FELONY KIDNAPPING, AGGRAVATED SEXUAL ASSAULT AND BURGLARY – AND VIOLATION OF A RESTRAINING ORDER AND CRIMINAL THREATENING. THE CHARGES CARRY A POTENTIAL PRISON TERM OF MORE THAN 60 YEARS.
A DISTRICT COURT JUDGE IN CONWAY ORDERED WEEMAN HELD WITHOUT BAIL AFTER HIS APPEARANCE IN COURT WEDNESDAY MORNING.