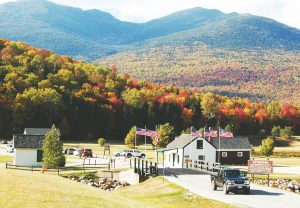 CONCORD — An improving economy and state marketing initiatives are expected to draw record visitors to New Hampshire for the Columbus Day weekend, according to state officials.
While some suggest that the historic drought could cause a duller-looking foliage season, the Department of Transportation has reported high traffic counts for the past several weekends leading up to peak foliage season.
The Great North Woods is at peak and the White Mountain region is very close to that point, according to the state's foliage tracker.
The Department of Travel and Tourism Development has projected that for the entire fall season, the state should receive 9.5 million visitors and $1.42 billion in direct spending.
"Last year, New Hampshire saw more than 39 million visitors, which marks a 5 percent increase over the previous year. And those visitors spent $5.5 billion, a 7 percent increase over the previous year," said Jeffrey Rose, commissioner of the Department of Resources and Economic Development.
"The fall season is a significant contributor to New Hampshire's tourism economy."
Traditionally, Columbus Day weekend is one of the strongest periods of tourism for the entire year.
In a typical year, the weekend draws more than 625,000 visitors who can spend up to $100 million, according to past reports of the Institute for New Hampshire Studies at Plymouth State University.
To drive continued visitation with key target audiences, the state tourism office launched an advertising effort to highlight the vast array of activities and backdrops available throughout New Hampshire.
In addition to its online foliage tracker, the agency has a blog "Leaf It To Kris," written by New Hampshire native and office staffer Kris Neilsen.
Story and photo courtesy of NEWHAMPSHIRE.com
http://www.newhampshire.com/Tourism/Officials-expect-robust-holiday-weekend-tourism-10072016